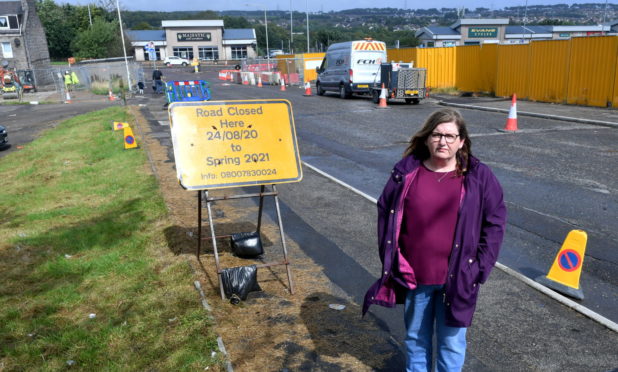 There are fears of "absolute bedlam" as an Aberdeen road is closed as part of an £18million project today.
Manor Drive is to be closed at its junction with Auchmill Road to allow progress on the Haudagain improvement works.
The road is well-used by commuters from Heathryfold, Northfield and further afield on the run to Dyce, avoiding the notorious traffic blackspot.
Once named the country's worst roundabout, the multi-million-pound project is aimed at bypassing traffic heading north-west on the A96 Aberdeen to Inverurie road past the Haudagain.
Councillor Jackie Dunbar, who lives locally, said normally residents are informed of road closures – but no letters have been sent out ahead of the change today.
She also worries existing restrictions, meaning North Anderson Drive is done to a single lane coming towards the Haudagain roundabout will make matters worse.
Ms Dunbar contacted Farrans, the contractor responsible for building the new road, to try and have the closure delayed by even a few weeks.
The North Anderson Drive restrictions are due to end by the middle of next month.
But Transport Scotland, the government body overseeing the project, has confirmed it will go ahead as planned.
She told The P&J: "I totally understand the closure needs to happen for this road to go through but this is going to cause absolute bedlam.
"I think it's been underestimated how well-used the road is and my worry is this will totally gridlock the area.
"Given that the works have already been delayed earlier this year due to Covid-19, I am sure the local community would continue to be very understanding as to why the works would be a wee bit late in finishing.
"I would hope common sense would prevail and that the road closure could be delayed until the works at North Anderson Drive are complete in an effort to ease congestion in the area.
"Closing Manor Drive whilst North Anderson Drive is down to only one lane will cause significant issues for local folk and commuters."
A Transport Scotland spokesman claimed delaying the Manor Drive closure would have knock-on effects for the rest of the project.
He said: "The works at Manor Drive have been planned and programmed by the contractor, Farrans Construction, in consultation with Aberdeen City Council and Police Scotland, to minimise disruption for road users and the local community.
"Farrans has confirmed that delaying the closure of Manor Drive would delay subsequent works and the overall programme, prolonging the disruption to local residents and road users.
"The contractor will continue to monitor the traffic management throughout the works to ensure that any disruption is minimised where possible.
"We would like to apologise for any inconvenience caused and thank the local community for their cooperation to date."