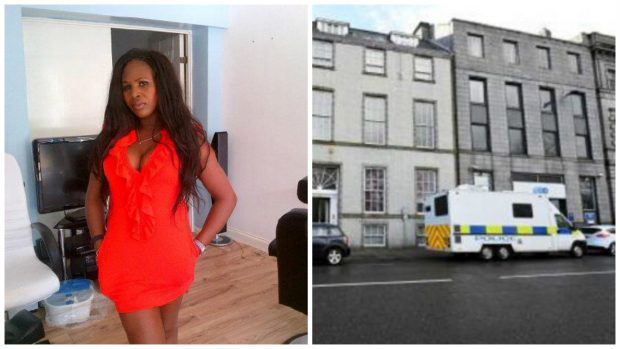 A prostitute, who was found dead in an Aberdeen flat last month, died from asphyxiation.
Jessica McGraa's body was discovered at a serviced apartment in the city's Union Terrace on Friday, February 12.
Following a major police investigation, 25-year-old Bala Chinda was arrested and charged with the murder. He also faced a charge of theft.
He made no plea, was remanded in custody and is due to appear in court again later this year.
Last night Mrs McGraa's death certificate revealed the 37-year-old had suffocated.
There was only one primary cause of death which was listed as asphyxiation.
And the time of death was recorded as 1.14pm on the day her body was discovered.
Mrs McGraa was found two days after she last logged into her Adult Work profile which she used to generate business for herself.
The document stated that McGraa was found in flat 16B Union Terrace, but when she wasn't working in Aberdeen, she lived in a flat on Chaplin Road, London.
It is understood Mrs McGraa married her husband Gareth, an oil worker, after they met while he was working in Nigeria.
The pair then moved over to the UK to start their married lives together. The couple also spent some time living and working in Aberdeen before they split up.
Following her death, Mr McGraa said he had no idea that his estranged wife was working as a sex worker.
It is understood she often used the name 'Bianca' and advertised herself as the "ultimate girlfriend experience" on her online profile.
Mrs McGraa's social media sites showed the lavish lifestyle she lived, jetting off around the world on holiday on a regular basis.
Following her death, friends of Mrs McGraa said they had no idea she was a prostitute, but admitted they believed she had been working in lap dancing clubs in the city.
Detectives scoured CCTV footage from across the city in an attempt to catch her killer.
Police also stood guard outside the Union Terrace property while forensic officers scoured the flat for evidence.
And a major investigation team was also set up to consult with organisations up and down the country who support those involved in the sex trade to keep them safe.
Neighbours of the property said that Mrs McGraa had only moved into the apartment, which is between the TSB bank and Caledonian Hotel, three days before her death.