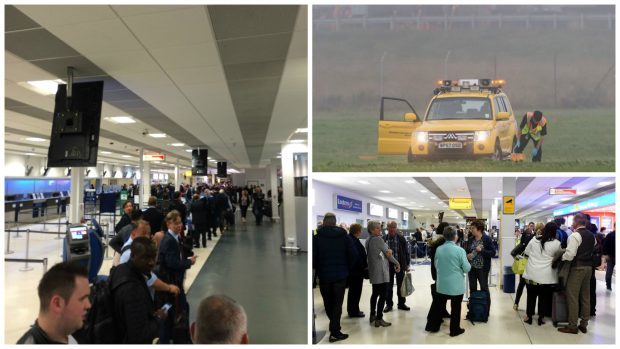 Hundreds of passengers had their travel plans thrown into chaos last night after Aberdeen Airport's only runway became damaged.
For the second time this year, operations ground to a halt at the airport after a fault was spotted on the landing strip.
Engineers raced to assess the tarmac at the south end of runway, while flights in and out of the north-east were diverted or delayed.
Although airport bosses managed to reopen a shortened runway, it was too late for many passengers who had already had their flights cancelled.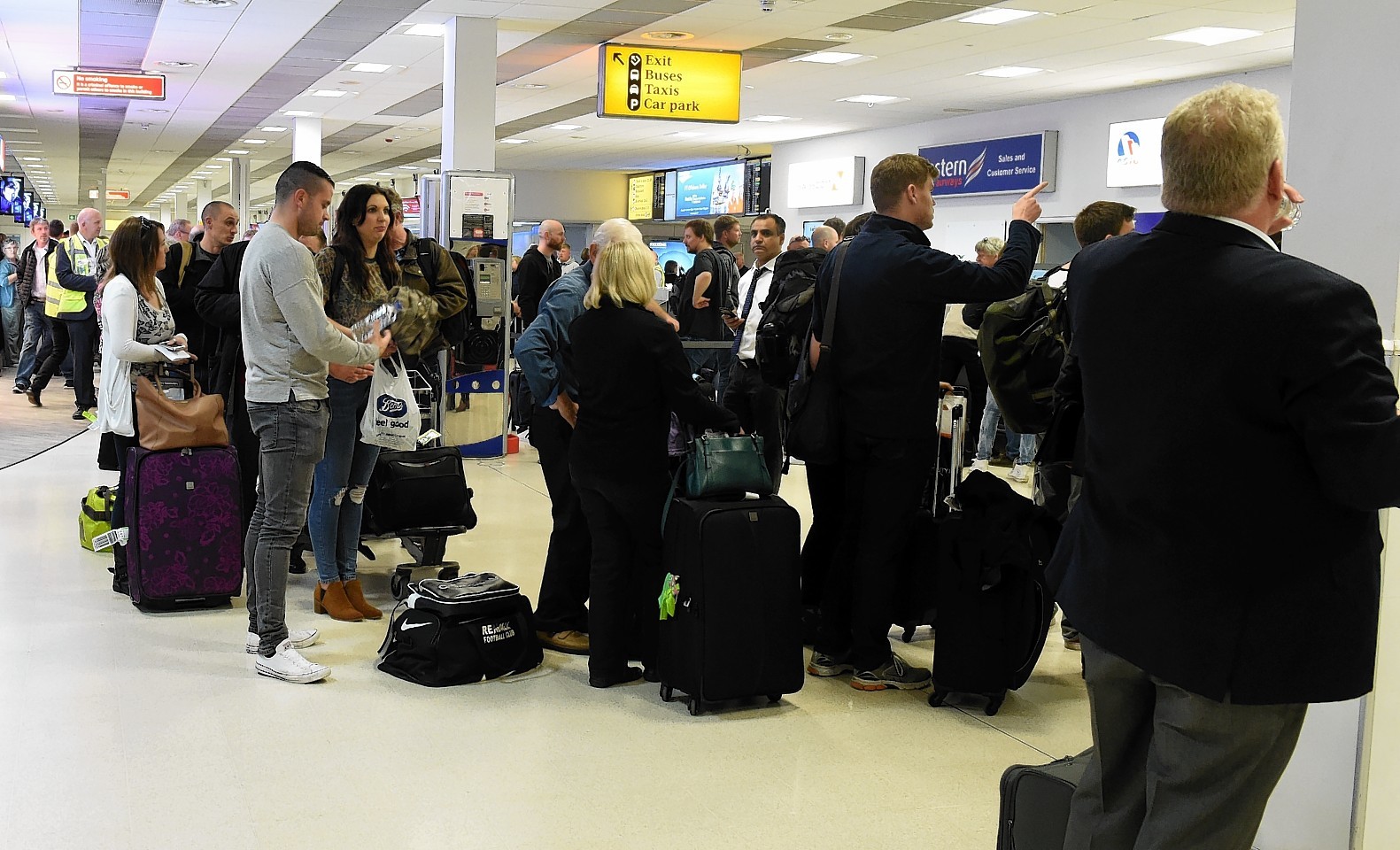 Both FlyBe and British Airways (BA) cancelled flights out of the city, and had to find overnight accommodation for their passengers, who were rebooked onto flights today. BMI Regional also axed their flight to Norwich.
A spokesman for Aberdeen International Airport said the damage was on a "very small section of tarmac" but insisted it was not a hole, like the one that opened up in torrential rain in January – again causing major disruption.
He said the two problems were not linked.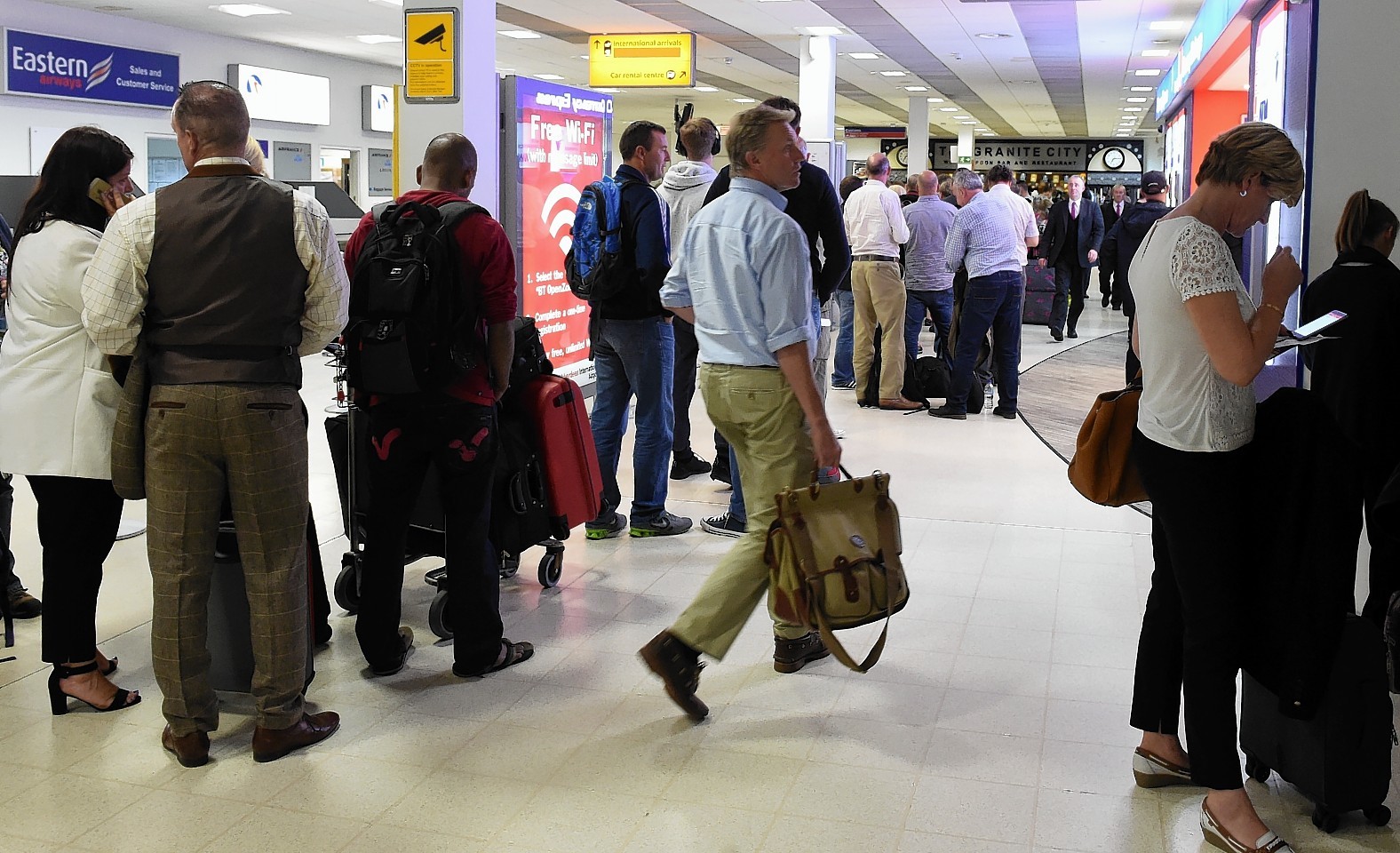 The spokesman added repairs were underway, but as a safety precaution a shorter runway had been opened to allow for a "reduced number of arriving and departing flights".
Two large queues within the terminal formed in the early evening and remained into the night, along with another long line for taxis outside.
Issues with FlyBe flights were being dealt with by only a handful of the airline's staff.
Several passengers questioned why the firm had cancelled its services, and claimed it may also have been a result of the foggy weather in Aberdeen.
Dr Muhammad Faisal said the cancellation of his evening flight to Birmingham had forced him to miss spending the remainder of Islamic religious festival, Eid al-Adha, with his family in Leicester.
He added: "It is totally ridiculous. There is only two people sitting on the desk. There are hundreds of passengers in the queue."
Alan Harcus of Nesbister, Shetland, was visiting Aberdeen for business, but their Sumburgh flight was cancelled.
He said: "It is a slow process. We have really no information, there's been no announcements."
Pitmedden man Stuart McRae was flying to Lerwick in order to carry out essential repairs to an oil and gas supply vessel.
He added: "It is just the usual thing, lack of information, it is not really filtered back down to the passengers. It is really unfortunate when this happens, but what can you do?"
Adam Watt had been due to fly home to Orkney at 6.30pm after coming into Aberdeen for work.
The 31-year-old said: "They just told us you we are going to try and find a hotel. This has never happened before. I have never heard of a hold up on the runways before."
Lynn Stevenson was due to get on the same flight to visit her family in Orkney as she looked to enjoy four days off work.
The 31-year-old said: "It was just a short trip up to Orkney to visit family and friends. It is going to delay it a bit. I don't know when I am going to get home."
In Wick, Lorna Mackenzie was waiting to meet her husband Iain who had been due home to celebrate her birthday.
The 44-year-old said: "I was supposed to be going out for a birthday meal with my husband and two children but we've had to cancel it.
"He was due to fly home to Wick tonight arriving at approximately 6.15pm.
"The flight was delayed to depart at 6.10pm then 6.30pm.
"It then said next update 7pm. After this time the flight was cancelled blaming weather conditions in Wick.
"At that time there was no fog in Wick so I don't understand why that was the reason."
Speaking just after his evening flight back to Heathrow was cancelled, Suffolk man said Archie Adams, said he was considering taking the sleeper train down to the UK capital.
He added: "It is just one of those things. It would have been nice early on if they have told us what was happening. You just find out secondhand."
A BA spokeswoman said: "Following unexpected runway maintenance at Aberdeen Airport today the airport experienced severe delays, which has disrupted our flight schedule."
She added the firm was "sorry for the delays".
FlyBe were unavailable for comment last night.