An "emotional" fundraising drive for a north-east charity chief left paralysed by a mystery illness has raised more than £61,000 in under three weeks.
Robin Maitland's children have been stunned after surpassing a fundraising goal of £48,000 to secure their father a "custom" car just 20 days after launching their online campaign.
Siblings Anna, Harry, Cara and Jack Maitland say the extra cash will also allow them to buy an off-road wheelchair, allowing their dad to enjoy the outdoors once more.
Last night, they revealed they thought people across the north and north-east had got behind the campaign as a way of giving back – as Mr Maitland and his wife Claire have helped save thousands of lives through their work with the Sandpiper Trust.
It is hoped Mr Maitland will arrive back at his Crathes home in early 2017, having spent nearly two years living in Aberdeen Royal Infirmary and, latterly, Glen O'Dee Hospital.
His home has been extensively renovated to allow him to return, but he will require two live-in carers.
In December 2014, Mr Maitland underwent surgery to remove a benign tumour on his spine, but awoke unable to feel anything from the chest down. As a result he has been left unable to perform basis day-to-day tasks.
Medical experts concluded he was suffering from a rare condition which causes the spinal cord to become significantly damaged with no chance of recovery.
However, an exact diagnosis has never been pinpointed.
The specially-designed car the family will now be able to buy thanks to the generosity of the north and north-east will allow Mr Maitland to travel and enjoy trips and breaks.
His family's goal is to get him back to a Scotland rugby match at Murrayfield and a concert to see "The Boss" Bruce Springsteen.
Last night Anna expressed her gratitude to all the people who had donated.
She added: "The crowdfunding went pretty awesome and it is still going. When you are putting up a crowdfunding page you don't know how the reception is going to be.
"We have been massively, massively overwhelmed by the response. It has been incredible.
"We will be able to afford the car and an off-road wheelchair, but everything we get will be spent on gadgets and machines to make his life easier and give him as much freedom as possible.
"It is a huge help towards the cost of his care.
"We have all been incredibly emotional about it.
"Sandpiper has been a huge part of their lives. I think a lot of people have donated by way of paying back for the work they have done."
To donate, go to: https://www.gofundme.com/robins-road-to-recovery-2vnkgvbd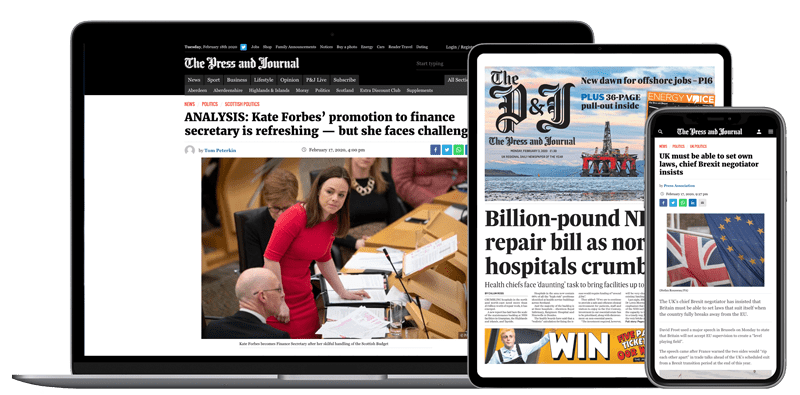 Help support quality local journalism … become a digital subscriber to The Press and Journal
For as little as £5.99 a month you can access all of our content, including Premium articles.
Subscribe