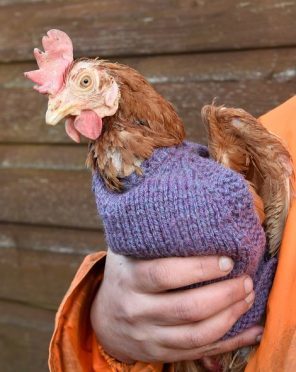 These chickens didn't cross the road – they had to pull over . . .
A north-east wildlife sanctuary is appealing for willing knitters to help keep their brood of featherless chickens warm this winter.
The custom made winter woollies will help keep the chooks at The New Arc near Ellon toasty throughout the coming months.
The Ellon wildlife refuge rescued 110 commercial hens in November preventing them from being culled by their egg-producer owners.
Owners Keith and Pauline Marley are currently caring for 60 of the saved birds after finding homes for their other feathered friends. Keith said: "They were in a hell of a state when they arrived here and are showing signs of improvement. Many were completely featherless, so we started looking up knitting patterns for them."
Adapting a pattern to best fit the needs of the moulted birds – Keith has noticed that the jumper-less chickens seem to be jealous of their woollen clad counterparts.
He said: "The online instructions didn't work, so one lady designed her own pattern for us. I'm not a knitting expert – it's hard enough catching them to get the jumpers on.
"They are happy enough wearing them, but the ones who don't have jumpers have been pecking the ones that do.
"If there is sparkly bling in it, then that seems to make it worse."
All the chickens are currently being housed inside or in outside bird houses after the bird-flu 30 day restriction came into place.
The sanctuary covers a 10-acre site near Ellon and houses 350 creatures at any given time, recently saving two orphaned otters aptly named Dee and Don.
The Marley's hope to move the otters outside soon after receiving a donation of some otter houses from the Wood Group. He said: "They are a fair size now and beginning to be a bit of a handful. We don't handle them now, but come February if the weather is alright, we will be moving them outdoors. They are still indoors just now, but are messy, messy creatures."
For more information or to find the knitting pattern please go to: www.thenewarc.org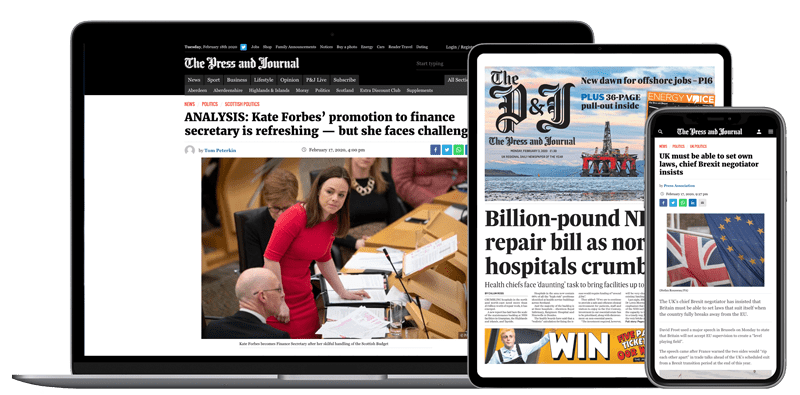 Help support quality local journalism … become a digital subscriber to The Press and Journal
For as little as £5.99 a month you can access all of our content, including Premium articles.
Subscribe