A historic castle left teetering on the brink of destruction after major floods almost swept away a river bank has been saved – thanks to the personal intervention of Prince Charles.
The future of Abergeldie Castle, in the heart of the Cairngorms, was in doubt after devastating floods swept along Royal Deeside last winter.
John Gordon and his wife sought refuge at a neighbour's house after a 1500ft stretch of embankment next to the castle was removed by the swollen River Dee.
The nearby village of Ballater was also badly affected with 307 homes evacuated and 60 businesses devastated in the aftermath of the December 30 deluge.
Part of the A93 Ballater to Braemar road, at Micras – across the road from the castle, was sent plunging into the Dee as the region was battered by the elements.
The roaring waters of the river also partly destroyed the Invercauld Bridge – which is the main crossing on the road into Braemar.
As a result, the village was left practically cut off.
The Duke of Rothesay, as the prince is known in Scotland, was staying at Birkhall on the Royal's Balmoral Estate at the time.
He quickly stepped in to help his flood stricken neighbours with charitable donations and supplies.
The Prince was rumoured to be amongst those who gifted cash to save the lilting Deeside landmark.
The riverbank disappeared in a matter of hours as frantic attempts were made to save the centuries old building.
Tonnes of rock were placed on the wrecked riverbank to save the A-listed tower from the destruction caused in the wake of Storm Frank.
The building remained on the verge of collapsing into the river for days while shoring up work was carried out.
And 12 months on and the remedial work appears to have done the job.
The rocky 20ft wide embankment has now been completely filled in and covered with soil.
And it is hoped that the new defence barrier will allow it to withstand many more harsh winters to come.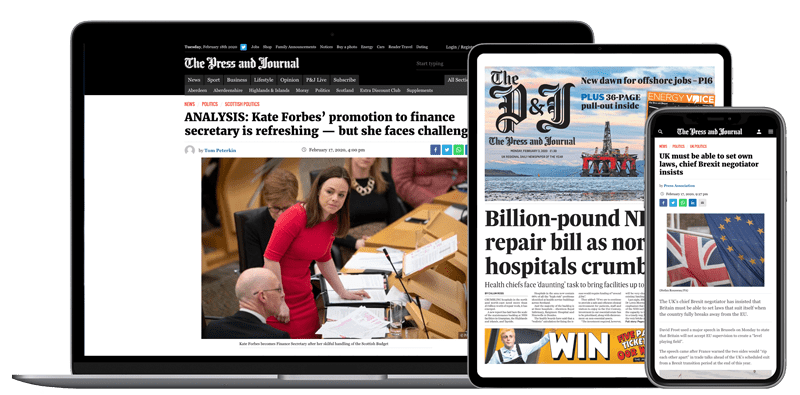 Help support quality local journalism … become a digital subscriber to The Press and Journal
For as little as £5.99 a month you can access all of our content, including Premium articles.
Subscribe