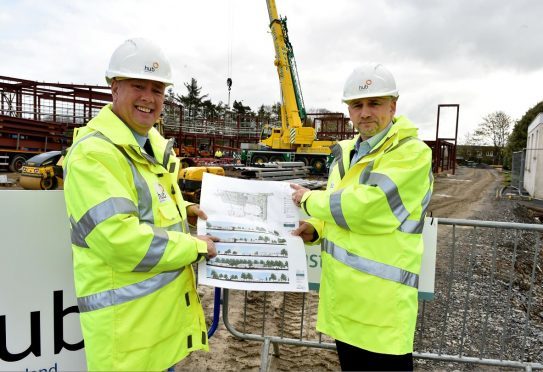 A senior government minister has visited a new multimillion-pound health centre which is being created in a north-east town.
Keith Brown, economic secretary, was shown around the new Inverurie facility yesterday as the Scottish Government announced it was investing £1.3bn in the region.
Work started on the £14.6million complex, which will be the largest of its kind in the country, last month.
Mr Brown was at the site to unveil the government's £6.3bn infrastructure investment plan which consists of completed projects from 2016 and new schemes which are already under way this year.
Speaking ahead of his visit, Mr Brown previously said: "The Scottish Government is investing heavily in the north-east of Scotland. We know a strong and vibrant north-east economy drives economic growth across all of Scotland."
The 43,055 sq ft facility will initially be able to accommodate more than 21,000 patients, which will eventually increase to an estimated 30,000 people by 2023.
The two-storey building will feature 38 consultancy rooms, GP and community health facilities, a public dental surgery and a community maternity unit.
Last night, Aberdeenshire MSP, Gillian Martin, welcomed Mr Brown's visit to the area.
She said: "The ambitious plans for a new health care hub in Inverurie will be a fantastic facility for those leaving in the region.
"Across the north-east, investment is being made in a number of vital projects and I welcome the economy minister's visit to see the construction.
"I look forward to welcoming him back to the north-east when the facility is completed and is open to the public."
Among the projects included in the government's investment report are the Aberdeen Bypass, which is on track to be open this winter, followed by long-awaited work on the Haudagain roundabout.
The Aberdeen to Inverness rail upgrade, which the Press and Journal previously revealed was almost twice the original £170m budget estimate, also featured in the report.
The investment plan confirmed development, which had also been pushed back by six months to September 2019, was not subject to any further delays.