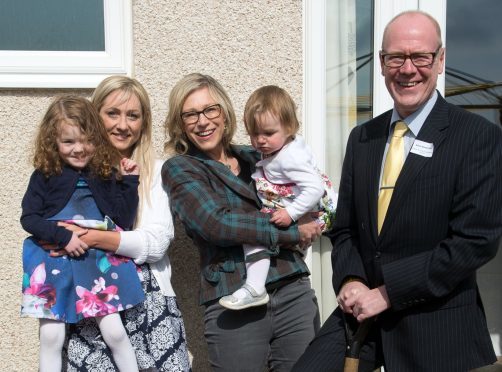 A brand new £3.7million housing development has been unveiled in the north-east.
Osprey Heights in Inverurie contains 14 two and three bedroom properties for rent and a further 17 three bedroom affordable homes.
The project was delivered by Grampian Housing in partnership with Barratt Homes and was given a boost of £1.8million from the Scottish Government and a further grant of £65,000 from Aberdeenshire Council.
In an earlier stage of the development 10 homes for rent were built at Threave Circle.
Housing minister Kevin Stewart visited the area to see the homes unveiled yesterday morning.
The MSP said it was a great example of how partnerships could help deliver the necessary homes.
He said: "I'm delighted that our investment has helped to make affordable housing a reality in this rural area.
"This latest development in Inverurie is a great example of how partnership working can deliver good quality homes that suit the needs of individuals allowing them to remain within, and sustain, their communities."
The Grampian Housing Association has committed to providing 2,000 affordable homes in Aberdeenshire before 2020.
Its chairman, Norton Bertram-Smith, said the latest development was an "ambition realised."
He said: "We are working hard to lead the sector in the development of significant affordable homes in the Aberdeen housing market area.
"There is still work to be done, but today's additional homes is another ambition realised.
"The properties at Osprey Heights and at our other developments across Aberdeenshire built since 2015, will mean Grampian Housing Association starts its commitment by delivering a total of 91 new affordable homes by the end of 2017.
"More new homes will follow thereafter."
Rob Simpson, head of housing at Aberdeenshire Council, said the local authority would have to continue to work with others to provide the housing necessary.
He said: "Increasing affordable housing remains a top priority for Aberdeenshire Council.
"The Osprey Heights development will further increase the range of housing available in the Inverurie area and we are pleased to work with partners in order to achieve this.
"Only by working with others will be able to deliver the housing required across Aberdeenshire."