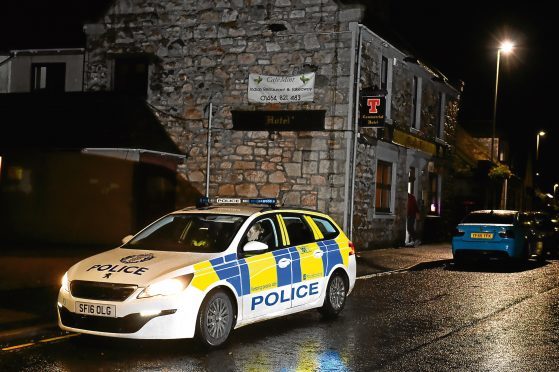 Police were last night hunting a knifeman after he threatened a restaurant owner with a blade in an Aberdeenshire village.
Scores of officers were called to Insch following reports that the man, believed to be from Essex, wielded the weapon at Mo Rahman while demanding he hand over valuables.
The incident took place at about 7pm outside the Commercial Hotel, which is attached to Cafe Mint, the Indian takeaway Mr Rahman runs.
After the victim put up a fight, the would-be robber fled from Commerce Street into nearby woodland and a police search was launched for him.
The man is understood to have escaped the woods without being detected and remained on the loose into the early hours of the morning.
A "shaken" Mr Rahman said last night: "I could see the man coming down the road ahead of me, and then go into a lane beside the Commercial Hotel.
"The next thing I knew, he was coming up to me and saying 'give me your watch and jewellery'.
"At that point, he pulled out a big knife but I grabbed him by the hand and asked what he was doing."
Mr Rahman recognised his assailant from spending time in the hotel bar earlier in the week, where the man had struck up conversation with locals.
The man is understood to have disclosed to others that he is from the Essex area, and had a recognisable accent.
Mr Rahman added: "I told the man that I recognised him from the pub, and he just grabbed car documents that I was holding and ran away.
"I chased after him, and he dropped the car documents but continued brandishing the knife as he headed off into the woods.
"I was shaken up, but the main thing is that nobody was hurt."
Several police cars swooped on the normally quiet village and officers mounted a torchlit search through the trees for the wanted man.
After failing to locate him in the woodland, they began checking properties they suspected he could be using as a hideout.
A police spokesman said: "There was a report of a disturbance and someone has made off from the police.
"We are making efforts to trace him at this time."
UPDATE: A police spokesman said this morning inquiries were ongoing but could not give any details about whether anyone had been detained or charged.