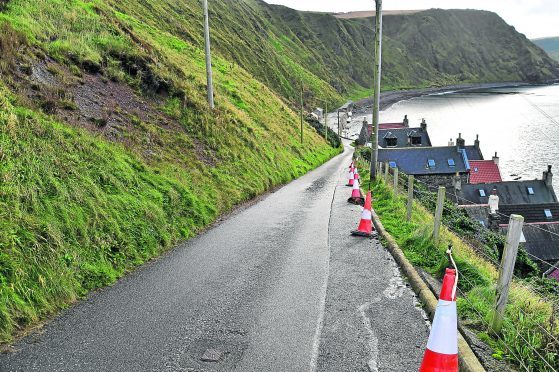 A north-east road which began crumbling away last year could soon be repaired.
The Bracoden to Crovie route was shut in October after a section of it gave way in heavy rain.
Since then, locals have been unable to use the road to get out of – or into – the village by car.
But the end could soon be in sight for the community, with local councillors expected to rule on remediation work next week.
In a report, director of infrastructure services Stephen Archer tells the Banff and Buchan area committee that his team have been busy collecting data about the slips at Crovie since 2009 so they could see what work should be done.
"The coastal slopes in this area are known to be prone to landslides," he added.
"Landslides have occurred in neighbouring villages of Gardenstown and Pennan as recently as November 2017."
He added that that stabilisation work was "recommended".
Mr Archer said: "If action is not taken, then there is significant risk of increased cost to remediate a larger slippage and potential for substantial damage to properties at the foot of the slope."
The work would involve reinforcing the hillside with rods to "nail" the soil together.
A public exhibition would be held ahead of any work being started to determine when the disruptive process would be least likely to affect residents.
Local MP David Duguid has called for a united approach to landslips in the area.
"Very often, it will fall to the local council or private landowners to act, but I think we need to approach this as a national issue," he said.
"Coastal communities all over the UK will have similar issues and we need to explore ways in which towns and villages can access funding to help combat the problem of erosion and protect local residents."
Meanwhile, residents in nearby Gardenstown have no expected start date for repair works on their landslide.
Harbour Road has been closed off since December.
Controlled openings will take place this weekend from 1pm to 4pm on Friday and 9am to 4pm over Saturday and Sunday.