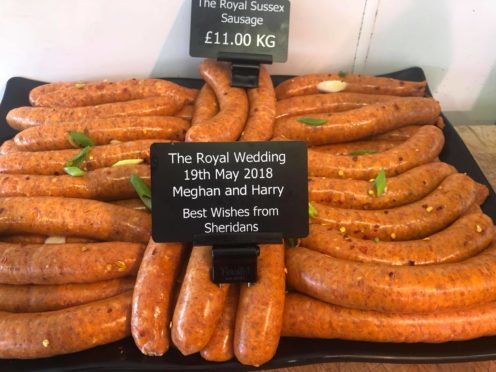 The Queen's butcher in Deeside is gearing up for the wedding of the year this weekend.
Royal Warrant holders Sheridans, in Ballater, has made a special ginger sausage to mark red-haired Prince Harry and Meghan Markle tying the knot.
The one-off recipe includes pork, smoked paprika, chillies, Dundee marmalade and Irn Bru.
The sausages are a wedding gift to the couple.
Butcher John Sinclair said: "The sausages will be there for the wedding breakfast and we hope that Prince Harry and Meghan enjoy them, although they would be an excellent meal for the morning after the night before.
"We have tried to include both Scottish and American influences in the recipe."
The Royal Sussex sausages, as Mr Sinclair has dubbed them, are also avaiable to the public.
Other businesses in Ballater are also getting into the swing of the celebrations, with bakers Chalmers – another Royal Warrant holder – putting together a patriotic wedding display in the front window and producing red, white and blue cupcakes.
On Saturday, Balmoral Castle will be offering free cupcakes to visitors, who are being urged to "dress to impress".
In Prince Charles's Rothesay Rooms, a shop and restaurant in the village, bunting and complimentary non-alcoholic bubbly with sweet treats will be on offer to guests.