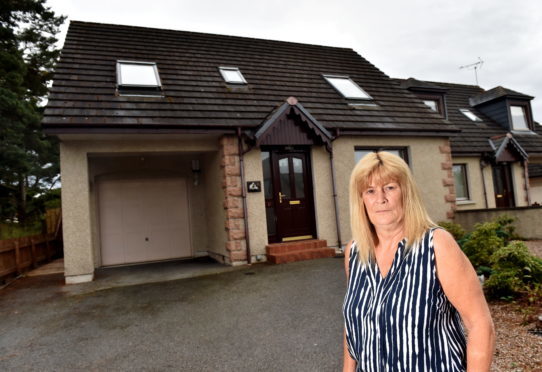 A woman claims she risks becoming homeless because her factor's continued demands for payment left her blacklisted.
Frances Smith, 64, said she has racked up a series of late payment charges since moving into her detached home in Kintore in 2004.
The widow said she has been sent invoices after the deadline for payment had passed which has left her credit rating in tatters.
She has now put her house up on the market, which she believes is the only way out of her predicament, and is trying to get a mortgage for a new property.
Ms Smith said she had never been in debt in her life and was stunned to receive the charges.
She said learning of being blacklisted and the subsequent dispute with factor James Gibb had taken its toll on her health.
She said: "I've complained and complained – they just ignored all my letters."
Mrs Smith said her problems began in February when she was hit with the first in a series of late payment charges, which she claimed were the result of James Gibb being late in sending her invoices.
And just when she thought she was up to date with her payments, she said the factor demanded debt collection fees and administration charges running into hundreds of pounds in order to be taken off the blacklist.
She added that she had been charged for services such as pruning, which she claims hadn't been provided.
Ms Smith, a widow of 17 years, wants to relocate from the Melrose Place property to another home in Kintore, but said she has been left struggling to get a mortgage due to the effect of the dispute on her credit rating.
"They're now holding a gun to my head. I feel like the only way to get away from the constant demands for payment is to move out.
"They shouldn't be able to get away with what they're doing.
"They've bled me dry but I'm not giving them any more money.
"I'm a hard worker, I've never been in debt in my life, and yet here I am losing my home.
"I can't sleep, I can't eat. I get a really sore stomach, just yesterday I felt really sick."
A spokeswoman for James Gibb said: "Due to the nature of these allegations, with them concerning an individual's finances, this is not something we would be able to discuss publicly."