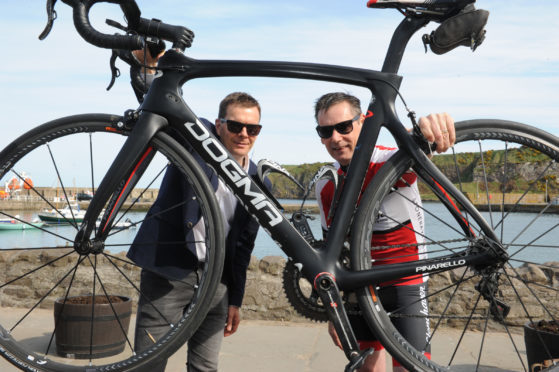 A group of cyclists have returned from a gruelling 700 mile cycle in support of the battle against motor neuron disease (MND).
The fundraisers, who named themselves Strive, were raising money for Scottish rugby legend's Doddie Weir's charity, My Name's Doddie Foundation.
The group covered the length of Scotland, from Stonehaven to Melrose and back, stopping off overnight in Inverness, Perth, Glasgow and Edinbugh.
A separate group travelled from Orkney, taking the ferry to Scrabster before joining the main group in Inverness on the first day of the trip.
They were welcomed by family, friends and event supporters, who had taken part in a 5k charity walk earlier in the day, which left and ended at the town's harbour.
The cycle is one of three events being organised by STRIVE as it aims to hit a fundraising target of £75,000.
A charity rugby tournament is being held in the town on August 25 and a ball takes place at the Marcliffe Hotel on September 22.
Strive was launched Stonehaven man Willie Tulloch, who is originally from Orkney.
He said: "The whole experience has been absolutely fantastic and we were completely overwhelmed by the support that was given to us as we travelled."
The foundation was set up by Mr Weir last year after he was diagnosed with MND aged 46.
It aims to raise funds for research into the causes of the disease and to investigate potential cures.
For more information about the foundation visit www.myname5doddie.co.uk