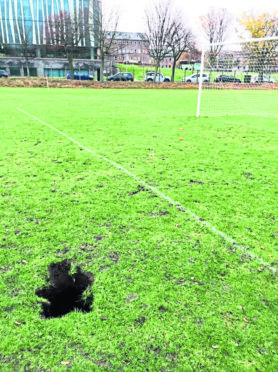 A football match had to be dramatically abandoned at the weekend after a sinkhole opened-up in the middle of the pitch.
The near metre-wide void, several metres deep, interrupted the highly-anticipated top-three amateur premier division clash between Stonehaven's Cowie Thistle and Aberdeen's Woodside on Saturday.
The teams played out the first 45 minutes on the St Machar Academy playing fields without incident, only for the surface to give way as substitutes warmed-up during half time.
Fortunately no-one was injured, but the hole proved too big to fill in and the game had to be called-off for the safety of all involved.
Cowie Thistle manager Ross Adie said the sinkhole on the Bedford Road pitches was a first in his near two decades in football.
He said: "I have played football for 16 years and been a manager for the last three and I've never seen a match called off because of a sinkhole before.
"We play every Saturday and so fingers crossed it never happens again.
"We had already played 45 minutes of football when we noticed it. Someone could have been seriously injured.
"The substitutes were warming up and taking shots at the goal when one of the players noticed the sinkhole near the goalpost.
"He put his foot on and it gave way a bit more."
Mr Adie added: "We all stopped to have a look and, as it's Woodside's pitch, they tried to fill it in but it was too deep.
"Even though it was a really big match, we had no choice but to abandon the game.
"It was an anti-climax but we'll just start getting ready to play them again."
Woodside secretary Douglas Gibb described the incident as "incredible".
He said: "Everyone crowded round to have a look and we had to tell players to step back because the edges were sinking in.
"It was around 30 inches in diameter and when we tried to fill it in with a spade someone could fit their whole arm and the spade in the sinkhole.
"It is unusual but as a school pitch, you hate to think that a kid could have run right into it.
"The referee said he'd never seen anything like it. We were winning 1-0 and so we had wanted to continue, but it wasn't safe."
Councillor Ross Grant, who represents the area, added: "I'm surprised to hear of this but the ground was, historically, quite boggy.
"I'm pleased that nobody was hurt and know that investigations are ongoing to ensure the site is safe."