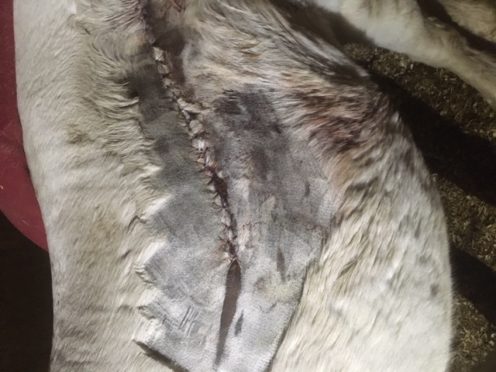 A north-east horse owner has been left "sickened" after her prized pony needed 28 stitches following a brutal and unexplained night-time attack.
When Tina Milne went to visit 12-year-old Bobby in Schivas, outside Ythanbank, on Saturday morning she discovered he had been left with an 18-inch gash in his side.
The Connemara (Highland cross) pony's injuries were so severe he needed emergency veterinary treatment and police are now hunting the person responsible for the "cruel" crime.
Ms Milne, who owns the horse with 15-year-old daughter Libby, said last night the family was struggling to comprehend what had happened.
"We'd been told Bobby had hurt his leg, so we went down and checked him over.
---
>> Keep up to date with the latest news with The P&J newsletter
---
"At first I couldn't see anything so looked around to his side and discovered the wound.
"It was not at all what I was expecting.
"I knew there was nothing I could do for him myself so I had to call the vet. He was quite shocked by what he found."
Ms Milne added: "I have no idea who could do something like this.
"It's quite sickening to think someone could attack an animal in this manner."
Ms Milne said Bobby was recovering well after his ordeal.
She added: "He's doing about as well as you can expect but I think he's getting fed up being stuck inside.
"We have to go down three times a day to keep his wounds clean and he's already burst two of his stitches."
Police have narrowed down the approximate time of the attack to sometime between 4.30pm on Friday and 11am on Saturday.
Local councillor Richard Thomson has echoed the Milnes' plea for information.
He said: "This was an absolutely horrific crime.
"You have to wonder about the mentality of anyone who would seek deliberately to harm an animal like this.
"I would encourage anyone who might know anything at all about this crime or who thinks they might know who is responsible to contact the police immediately."
PC Alan Mitchell, who is leading the investigation, said: "I would appeal directly to any neighbours or residents in the area who may have seen anything unusual or suspicious around the time this happened to contact us.
"This incident has caused significant stress to the owners of the horse, which is now recovering.
"We have not received any reports of similar incidents in the area but I would urge horse owners to check their animals regularly and report anything unusual to police."
Anyone with information is asked to call police on 101 or Crimestoppers anonymously on 0800 555 111.