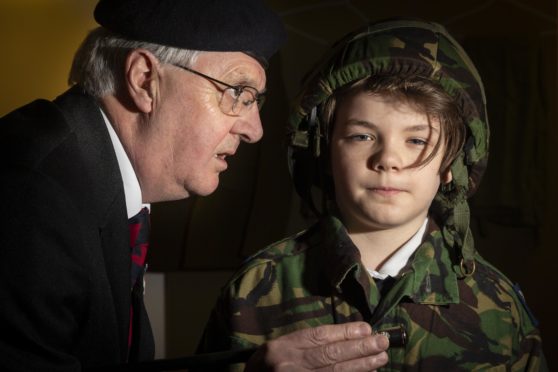 A class of primary pupils were put through their paces on Friday as they had a taste of WW2 new recruit training from some army veterans.
The p7s from Banchory have been learning about the war as part of this term's project and yesterday received a special lesson from four local British Legion members – some of whom are former sergeant majors.
The pupils were lined up inside Banchory's museum and were shown the kit and mock up bed that a new recruit would have to learn to meticulously care for.
"Hands out of pockets," barked Scott Traynor MBE. "Stand up straight. Stand to attention."
---
>> Keep up to date with the latest news with The P&J newsletter
---
Looking on, class teacher Vicky Lyons said she was "picking up tips" from the retired soldiers, adding: "I think it is good for them to see what life would have been like for the young men who were signing up for WW2. We will be practicing the drills and hopefully showing off our new skills to parents."
Pierre Faure, 11, said he had found the lesson "really interesting" and had liked learning about the kit inspections stating that it was "fun."
Mr Traynor was joined by fellow veterans and Banchory British Legion members Chris Collins, Len Hames and Alistair Black.
He impressed upon his troops the importance of team work and gave them a run down on a typical day as an army recruit. He said: "If you made a mistake you would be punished – or beasted – that way you would never make the same mistake again.
"Discipline was extremely important – as a recruit you would be broken down and built back up again by being disciplined.
"Learning these skills could potentially have saved your life and the life of your squadron. Team work is everything."
Curator of the museum Anne Lamb came up with the idea of the interactive lesson along with the Banchory British Legion.
She said: "I think this gives more meaning to the children's learning – some of the new recruits in WW2 would not have been that much older than some of these children."