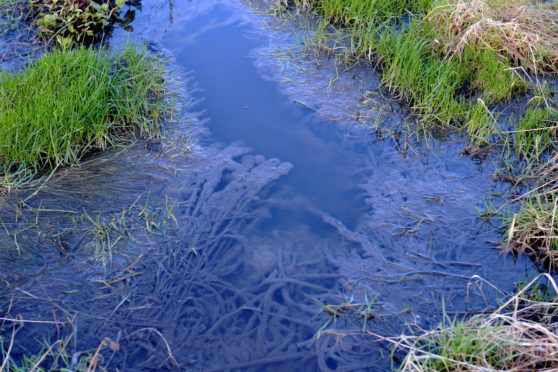 Scottish Water has vowed to take action after a beauty spot along the River Dee was left a "stinking quagmire" due to issues at the local sewage treatment system.
The riverside path close to the Aboyne Wastewater Treatment Works is a commonly frequented by both fishermen and dog walkers.
But recently, unpleasant smells and unusual-coloured standing water has been reported in the fields close to the site.
The fields near the plant are used as part of the treatment process in order to provide an additional stage of filtering before the output of the works goes into the River Dee.
One Aboyne resident who frequently walks in the area said there has rarely been any issues at the site in the decades he has lived in the village.
But last night, he claimed it was now disgusting, and said: "The entire three-acre field is now a stinking quagmire of grey water, toilet paper and God knows what else.
"What we noticed at the weekend was that there was a very strong smell of sewage. The first field between the sewage works and where the track bends round is a bog, completely filled with smelly water.
"It's really unfortunate because it's just an unavoidable smell in a really lovely area.
"Of course we're now into fishing season too, and this stretch of river is really quite popular with anglers."
A spokesman for Scottish Water said the situation could be in part due to the recent wild weather.
He said: "In the very wet conditions at the weekend, the waterlogged land may have been unable to absorb the effluent in the normal way – however, the treated effluent should not include any debris as this has been screened and has passed through several stages of treatment process.
"Following the reports received, a team attended the site this afternoon to investigate and identified that some debris was evident.
"We believe this is linked with maintenance work recently carried out on the sewer network upstream of the treatment works, which should have been cleaned up at the time.
"We will arrange for the site to be cleaned as soon as possible and would like to apologise to customers for the issues they have experienced in the meantime, which we appreciate are unpleasant."
A Sepa spokeswoman said: "Aboyne Waste Water Treatment Works has an authorisation to discharge to land as well as to the River Dee. Sepa received a complaint regarding this and we are now reviewing the matter with Scottish Water."