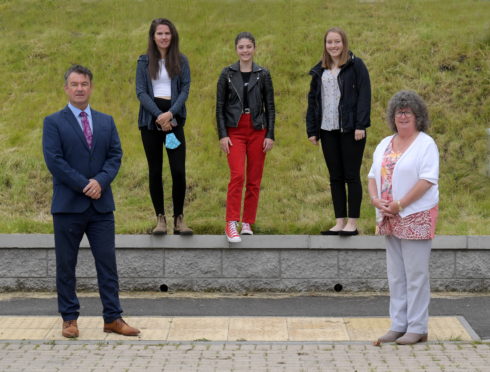 Aberdeenshire youngsters breathed a sigh of relief yesterday when they learned they had exceeded expectations during a turbulent school year.
Despite the disruption the coronavirus pandemic has caused to their education, children achieved pass marks in greater numbers than last year.
More than 6,000 pupils sat 30,000 courses across 70 subjects this academic year with the children achieving improvements in attainment at national five, higher and advanced higher levels.
As well as those celebrating success in their traditional qualifications yesterday, a further 319 pupils across Aberdeenshire gained foundation apprenticeships through their schools or North East Scotland College for the first time.
That qualification is the equivalent of a higher, but is a combination of classroom and work-based learning.
Portlethen Academy pupil Abbie Johnson, 17, was celebrating gaining her foundation apprenticeship in children and young people, as well as an A in history and a C in advanced higher English  – though she plans to contest that result.
She will begin a degree in law at Robert Gordon University next month and says her apprenticeship has confirmed her wish to work with children through specialising in family and juvenile law.
She said: "Foundation apprenticeships are a great way to get higher level qualifications without the stresses and pressures of regular classroom learning and final exams.
"I did my placement with a childminder in Newtownhill and I was able to form really strong relationships with the children and my co-workers.
"It was all graded assessments so it happened quickly and I had my certificate by April.
"Our normal school exams were worked out by teachers who took into account prelims, coursework and other marked assessments to give a predicted grade."
Her mum Audra added: "I'm really proud of her. She has a long road ahead at university but she works really hard so will be okay."
Amy Simpson, 17,  passed her foundation apprenticeship in children and young people through Ellon Academy and Balmeddie Nursery.
She said: "The apprenticeship was different to my normal highers.
"It was more beneficial and taught me time management and patience and made me think about how to act around children.
"It offered more responsibility than other courses. It's good to have the classroom learning and then see how it's put into practice in the placement."
Two pupils from Peterhead were also celebrating passing their foundation apprenticeships yesterday.
Jamie Thom, who hopes to train as a nurse, found his experience on the hospital wards invaluable.
He added: "I got to spend a lot of time speaking to and working with patients and nurses in their day to day activities. I've been mesmerised by their ability to cope with the demands of their job and their dedication and commitment."
Classmate Matas Taroza, who studied IT software, added: "Foundation apprenticeships allow you to build up a relationship with employers and to network. I found I had much more experience to write on my CV."
The overall pass rate for pupils sitting national five subjects was up 4% to 79.2%, while attainment at higher level was up 3.5% to 77.6%. Advanced higher pass gains experienced the biggest jump, rising by 6.4% to 82.6%.
The number of pupils excelling in the core skills of literacy and numeracy is also on the up, with 87.6% of S4 pupils achieving a national five English award and 70.1% doing likewise at maths.
The youngsters' achievements come despite classes having been cancelled since March due to the coronavirus lockdown restrictions.
Final exams were done away with and their grades were instead decided by Scottish Qualifications Authority assessors based on preliminary exam results, coursework, feedback from teachers and their schools' track records.
The local authority's head of education, Vincent Docherty said: "It hasn't been easy for our schools to collate and review evidence and make a fair judgement on behalf of each and every young person who was due to sit exams this year, but I really feel teachers, supported by their leadership teams, have done a great job in Aberdeenshire."
Mintlaw Academy pupils celebrated as advanced higher passes jumped up 17.5% on last year to 84.2%. Higher and national five pass marks were also both up to 79%, an increase of 5.5% and 3.4% respectively.
Meanwhile Peterhead Academy pupils achieved a 68.2% advanced higher pass rate, up 4.3% on last year. Higher passes were up 3.2% to 61.4%, and national five attainment rose 7.6% to 69.1%.
The region-wide performances have earned praise for pupils from Aberdeenshire Council's education and children's services committee chairwoman, Gillian Owen.
She said: "I'm so pleased to see our young people able to breathe a long-awaited sigh of relief, recognised for their efforts and celebrating all they have achieved even in the face of adversity this year."
More than 120 employers were involved in the foundation apprentice placements, which covered eight qualifications including accountancy, creative and digital media and health and social care.
The project, which had an 86% pass rate, with a further 10% of pupils gaining progression awards, is being renewed for next year.
Mr Docherty believes foundation apprenticeships will "transform" the way senior pupils learn in the future.
He said: "They bring internationally-accredited trainers into our schools delivering industry-standard training opportunities – these qualifications are great for pupils' confidence and readiness for the world of work.
"They're recognised by universities and they're great for employers who want young people to be able to hit the ground running with them when they leave school."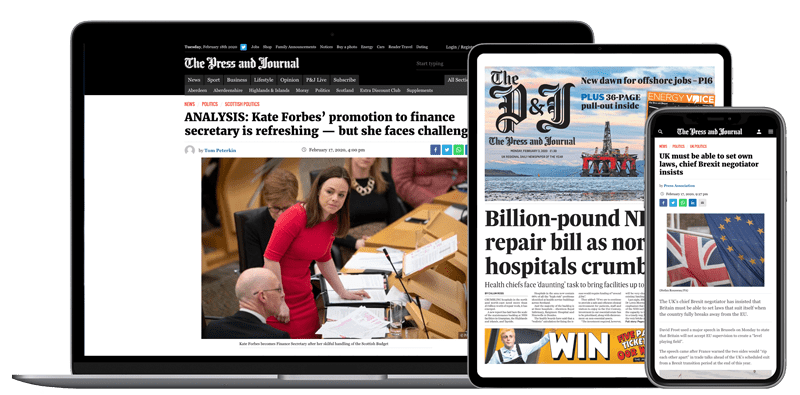 Help support quality local journalism … become a digital subscriber to The Press and Journal
For as little as £5.99 a month you can access all of our content, including Premium articles.
Subscribe