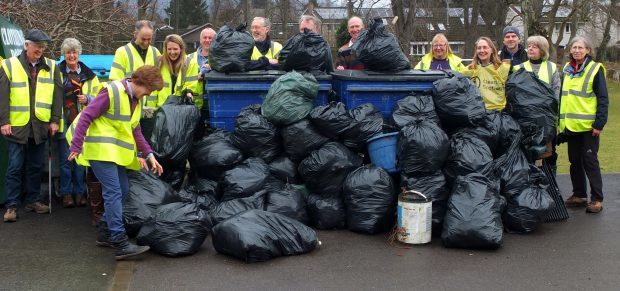 Cash-strapped Aberdeenshire Council has collected a meagre £400 in litter fines over the last five years – despite having two officers trained to dish out penalties.
Just five people have been fined for dropping litter since 2011, prompting claims that street cleaning is a "forgotten service".
The local authority will spend £2,517,000 this financial year on street cleaning, which includes mechanical sweeping, emptying bins and litter picking.
But despite the huge cost, the council last night defended the low number of fines issued to litterbugs and stressed the difficulty of catching people in the act.
However, a spokesman warned the council would be upping their efforts to crackdown on litter louts, with 17 officers currently being trained up to issue the £80 fines.
Exclusive figures obtained by the Press and Journal show there have been just five people fined since 2011, all to people spotted throwing rubbish out of a vehicle.
The numbers show there were no penalties issues in 2011 or last year, but three in 2013 and one in each of 2013 and 2014.
Last night George Niblock, convener of the Aberdeenshire Environmental Forum, said the figures were "very disappointing" and blamed it on the size of local authorities.
He said: "Street cleansing is the forgotten service.
"The number is very disappointing, but it's a bigger problem than just Aberdeenshire Council.
"Following the restructuring of local government in 1996, when the district councils were merged into bigger ones, it became forgotten.
"The Environmental Protection Act 1990 states that it is a duty of councils to keep streets clean, just like it's a duty to educate children."
Mr Niblock also pointed to the results of a study carried out by the forum, which suggested 27% of respondents felt the cleanliness of their neighbour was a "common problem, greater than drugs or drug dealing by a factor of two".
In 2011, Aberdeenshire Council become one of the sponsors of the Scottish Fishing for Litter Scheme – a project designed to remove rubbish from the sea.
It also has a warden employed to monitor litter on Balmedie beach, although it last night emerged they do not have the power to issue fines.
None of the five fines related to offences at beaches across the north-east.
Green councillor Martin Ford, who represents East Garioch, claimed the figure was "miniscule" in relation to the problem across the region.
He said: "Clearly, there is a very widespread and significant issue with littering in Aberdeenshire.
"While it's only a minority who are dropping the litter, it's then a problem for everyone and the council.
"Littering is antisocial behaviour and an offence.
"The council spends considerable sums on cleansing activities including clearing up litter – money that could surely be better spent on other public services if littering wasn't such a problem."
He added: "The number of fines is minuscule in relation to the scale of the problem.
"I certainly do believe it would help deter littering if more of those doing it were to be caught and fined."
Philip McKay, head of roads and landscape services for the council, said it was difficult to catch litterbugs in the act.
He said: "Aberdeenshire Council does issue fixed penalty notices for littering and other antisocial activity, such as dog fouling,
where appropriate.
"If a council officer witnesses a case of littering, that person will be given the opportunity to pick up the litter rather than face a fine in the first instance.
"Although additional officers were authorised to serve fixed penalty notices, it can be very difficult to gather the necessary evidence, as people often don't want to be a witness against someone in their local community.
"Many of the complaints we receive are of a general nature, simply referring to a problem area rather than identifying anindividual, which would make it easier to take action against them."
Laughable figures
Monymusk resident David Hawson last night described the low number of littering fines as "laughable".
He got so fed up of rubbish being dumped at the roadside of his village that last month he led a team of more than 50 volunteers in a clean-up.
Each participant covered a half-mile stretch and more than 50 bags worth of rubbish were collected.
Reacting to the figures, Mr Hawson said: "It's laughable, we have a whole generation believing it is OK to drop rubbish from the roadside without impunity and they're getting away with it."
"We had 57 people turn up to collect litter for a couple of hours on a Saturday morning and each person covered half a mile of road and it really opened our eyes to the quantity of litter there is on the road."
Carole Noble, operations director of Keep Scotland Beautiful, said more needed to be done to address the issue.
She said: "We all have a responsibility to do our bit to change the behaviour that results in far too much unwanted litter in our country.
"We're working hard with councils across Scotland, along with the Crown Office and Procurator Fiscal Service, to improve the effectiveness of enforcement.
"The number of fixed penalty notices being issued across Scotland for littering is on the rise, but we acknowledge that more needs to be done, through education and enforcement, to make littering a behaviour of the past.
"Our message is clear, individuals must dispose of their litter responsibly and make Scotland's favourite places cleaner and greener."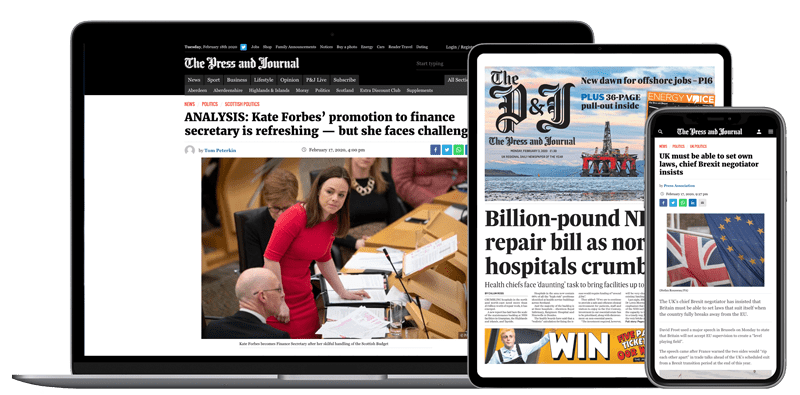 Help support quality local journalism … become a digital subscriber to The Press and Journal
For as little as £5.99 a month you can access all of our content, including Premium articles.
Subscribe