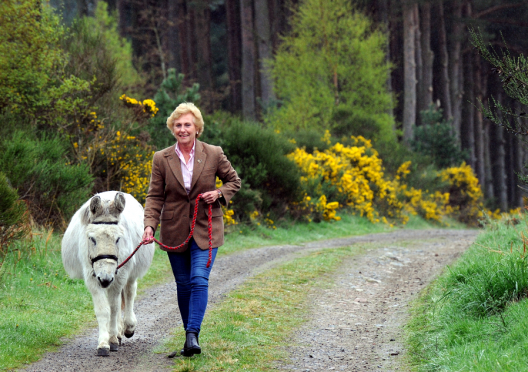 He was one of the north-east's most ubiquitous creatures, whether starring on stage, taking part in weddings or cheering up everybody he met.
So there has been sadness at the news that Porridge the donkey has passed away peacefully in his field at the ripe old age of 38, thirty years to the day after he arrived at his home in Deeside.
This little animal with a big personality spent decades doing charity work, community duties and enjoying life with his family, the Milligans, by going on rides, treasure hunts and British Driving Society events.
Porridge started his charity appearances, for which he would gain widespread renown, with the Aboyne Royal Voluntary Service during the EU Butter Mountain saga in 1987, and never stopped thereafter.
He had a lifelong association with members of the Donkey Breed society. Their mantra 'An Active Donkey is a happy Donkey' certainly applied to Porridge.
In 2007, after winning numerous prizes, he gained the prestigious Active Donkey award and remains the only Scottish creature to have earned that accolade.
His last public outing was to a World Horse Welfare Active Donkey Day where he was one of over a hundred attendees, both human and donkey. His owner, Diana Milligan said: "It was really trying to show people not to just leave them in the field."
During his life, Porridge raised nearly £150,000 for The Brooke, an international animal welfare charity, dedicated to improving the lot of working horses, donkeys and mules.
This saw him feature in a diverse range of activities, including meeting Joey, the National Theatre War Horse puppet and taking part in a charity fashion show with HRH Camilla the Duchess of Rothesay.
He was heavily involved in his local community throughout his life, appearing in various plays and festive shows, including an award-winning 'alter-Nativity' at Finzean Estate and Carmen at Aberdeen's HMT.
Ms Milligan, his companion and owner for the last thirty years said: "He had a universal appeal because he always appeared to be doing his very best to please.
"This in turn meant that everyone who met him fell under his spell.
"I think, at the moment, it [the emotion] is still quite raw. He has done a huge amount.
"Right up until the very end, he was still quite active by going on rides and having new experiences."