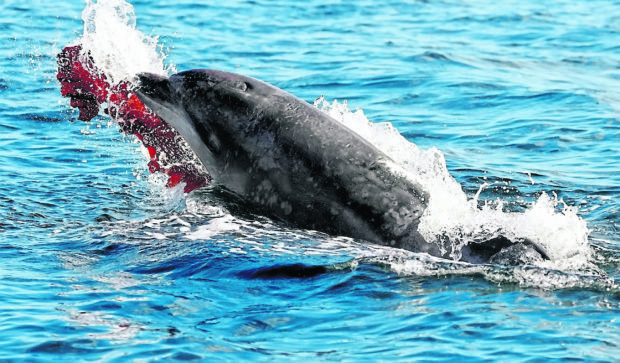 Stranded on the mudflats of the Cromarty Firth and suffering from severe sunburn and dehydration, there were fears Spirtle the bottlenose dolphin would not survive.
Two years on, however, the now six-year-old dolphin appears to have made an incredible recovery having been spotted playing in the Moray Firth.
Fascinating new pictures taken close to Fort George, near Ardersier, appear to show that her injuries have healed.
Aberdeen University scientists and Whale and Dolphin Conservation field officer Charlie Phillips – who took the latest images on Friday – have been monitoring her ongoing recovery.
Dr Barbara Cheney, a research Fellow at Aberdeen University's Lighthouse Field Station, said: "Spirtle was in a group with four other dolphins near the Sutors of Cromarty.
"It is difficult to know exactly how her recovery is going as we are of course judging only on photographs and her behaviour.
"But we weren't optimistic when we first saw her two months after the stranding in July 2016, when we saw the extent of her wound and the damage to her skin.
"Since then, however, we have been happily surprised by the progress of her healing and when we spotted her the wound was completely healed over.
"When we saw her initially after the stranding she was often on her own, but now she is interacting more with other dolphins and her behaviour is what we would expect to see from any other six-year-old dolphin."