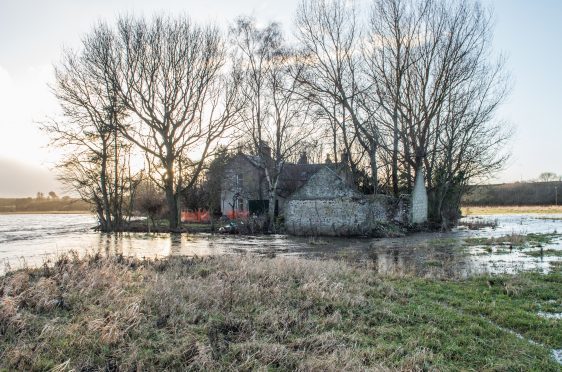 Fears have been raised the imminent collapse of a century-old historic Moray home could be a sign of things to come.
Ross House, near Garmouth, was several hundred yards from the River Spey about 15 years ago.
Yesterday morning however, water lapped at the foot of the building that was condemned about two years ago due to fears the river was undermining the foundations.
Now concerns have been raised that unless action is taken now then the rest of the village could come under constant threat within the next decade.
Garmouth resident David Mackay has had his home flooded repeatedly during the last 15 years.
He said: "There are probably about 10 houses under serious risk at the moment. Unless something's done, that will only increase.
"Historically, the river has flown down the west bank but the railway wanted it on the east when the viaduct was built.
"There's been a tremendous build-up of shingle to the south of the viaduct and it has pushed it back to the west. We've suffered from that mightily over the last 15 years."
Mr Mackay fears a lack of maintenance by the Scottish Crown Estate is exaggerating the effects of regular movements of the river.
Meanwhile, two holes at Garmouth and Kingston Golf Club have become swamped during that time, causing the course to become shortened.
Allan Thompson, who plays the course regularly, said: "There used to be a par five, then it was a par four, now it's a really hard par three because so much of green has been lost to the Spey.
"It's just gradually worked itself across. There's so much shingle there at the moment. The Spey always moves a couple of hundred yards every year but people can't it as wet as this on the course."
Fochabers Lhanbryde councillor David Bremner, who lives in Kingston, said: "Certainly, before the bridge it looks like it has moved track. It seems to be silting up.
"The river moves around all the time. There is a lot of stone being brought down stream and dumped at the moment."
A Crown Estate Scotland spokeswoman said: "Although responsibility for preventing or dealing with flooding lies with the local authority, in the past we have worked closely with the council, Sepa and Scottish Natural Heritage to support remedial works. We would be happy to discuss further works with the council and other stakeholders."