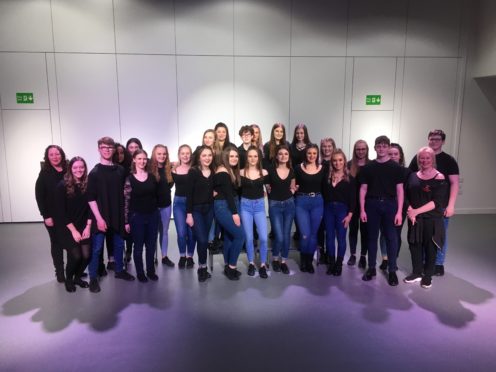 Teenagers in Moray have written and performed a musical inspired by the pressures facing young people today.
A group of 16 S4 students from Buckie High School and Elgin High School have spent the last four months devising the production.
And now, the pupils have debuted the work, titled Parallel Pressures, in front of audiences made up from their classmates.
Topics covered in the musical include peer pressure, underage drinking, exam stress and fears they face about their future life.
Sarah Baxter, manager of DYW (Developing the Young Workforce) Moray, described the finished production as a "poignant" reminder of the pressures facing teenager.
She said: "What was great about it was how it all evolved. We wanted them to have the freedom to set the dialogue and they well and truly did that.
"However, they also kept in mind the remit of getting our message out there – which is that there is 'no wrong path'.
"It was a powerful piece of theatre."
The musical was the result of a collaboration between DYW Moray and the Lossie Entertainment Academy, which helped provide creative guidance to the young performers.
Auditions were held for the roles to choose the cast before discussions about what to include in the show, which also featured relationships.
Tish Tindall, owner of Lossie Entertainment Academy, saw the group's self-belief grow since the initial meeting in December.
She said: "The young people that came to us could barely even speak to me when we first met, but throughout the process, they are now a completely different group of young adults.
"They have developed in confidence, their posture has changed, they now hold their heads up and they have developed real friendships with each other."
Anne Duncan, a board member of DYW Moray, added: "From the outset, this partnership was not about the finished product.
"It was about the opportunity for personal development given to all the participants through the rigours and demands of working with professionals in the creative industries.
"What is very poignant is that it's clear through their performance that they have lived and breathed the pressures they act out."