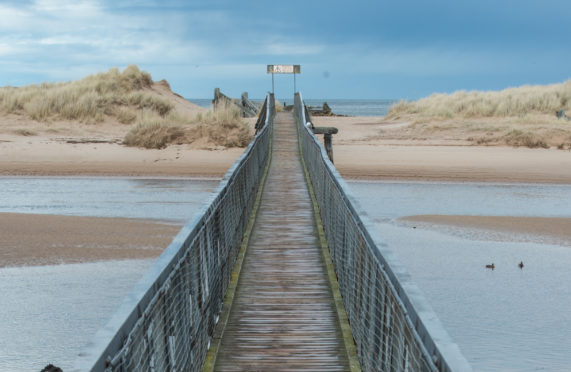 Campaigners fighting to restore access to a north-east beauty spot have celebrated a landmark decision that will lead to a new bridge being built.
For decades, the East Beach crossing in Lossiemouth has had no official owner – meaning it was allowed to gradually deteriorate to the point it was closed in July on safety grounds.
The Scottish Government announced earlier this year that due to its importance, it would fund a replacement bridge.
But before the funding could be awarded, Moray Council had to agree to take responsibility for maintaining the crossing in the future – which it did, unanimously, yesterday.
This means the design and planning preparations can finally begin.
Rab Forbes, chairman of the Lossiemouth Community Development Trust's bridge committee, said: "This is excellent news for us. It means we can get started in the new year working up what the options will be and what can be done."
The initial phase of the project will involve the trust funding a £100,000 study to examine where a possible bridge could be by using cash already pledged to the group from public donations and grants from SSE and Highlands and Islands Enterprise.
The second part will involve the Scottish Government funding the project with Moray Council assuming responsibility for maintenance and repairs once complete if the final design is financially viable to be built.
Council leader Graham Leadbitter said: "I commend the efforts of the Lossiemouth community on this hugely important issue for them.
"The council already maintains about 500 bridges in Moray so we are the bridge experts. The engineering team is excellent. I think we would have been foolish not to take responsibility for it given the funding commitments from the Scottish Government."
Heldon and Laich councillor John Cowe said: "The closure of the bridge has had a devastating effect and the viability of Lossiemouth as a destination was in question.
"This has been an anxious time for everyone in Lossiemouth."
The previous bridge was built more than 100 years ago but became ownerless when the previous harbour board folded.
Both Moray Council and the Crown Estate had denied responsibility for the wooden structure in recent years.
Moray MSP Richard Lochhead said: "Everyone breathed a huge sigh of relief when the SNP Government announced funding for a new bridge and this decision is an important step forward in delivering that."