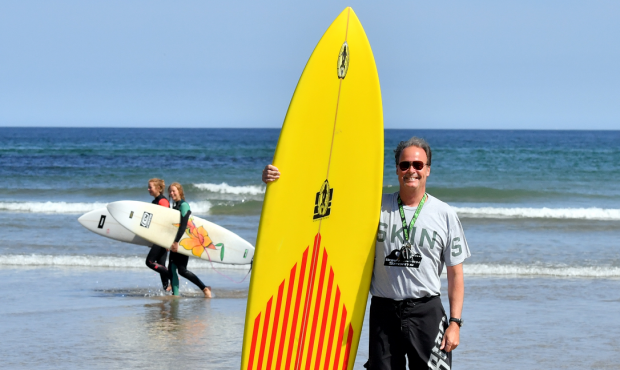 A north-east surf club – run by a couple who battled cancer and two heart attacks – is expanding to encourage more people to take up healthy outdoor activities.
Davie and Geraldine Johnson run the re-branded Surf'Sup in Banff.
The centre, which was previously known as Surf and Watersports Club Scotland, is appealing to new members and now offers both surfing and stand up paddle boarding.
The latter activity is one of the fastest-growing sports in the world and, in a bid to encourage more people to get fit and take part, the Johnsons have ditched the "club" from their name to show that anyone can come along.
Mr Johnson said: "It was 14 years ago when my wife Geraldine, a cancer survivor, said 'why not start a surf club to get more people into this healthy outdoor activity'.
"It just grew from there will all profits used to buy more surfboards and wetsuits to get more people involved."
Mr Johnson, who is self-employed and works in the roofing industry, has himself since survived two heart attacks and cancer. He surfs nearly every day, regardless of the season.
"The doctor said surfing is probably what kept me alive," Mr Johnson said.
"The Sups are fun on flat water lakes and rivers as well as on the ocean when the waves aren't strong enough for surfing. It's one of the fastest growing sports in the world so to reflect this trend we've taken them on and changed our name."
The Johnsons have worked with a surfers ranging in age from two to 84.
He added: "We just want others to have as much fun as we have done."
Based at Banff Links Beach, the centre has changing facilities on site.
Surf'Sup has five qualified coaches and is approved by Adventure Scotland for school trips as well as Scouts, Cubs, Guides and other youth organisations.