Wintry weather battered the region yesterday, causing a six-car pile-up outside Aberdeen and huge disruption in the Western Isles.
The crash happened at Westhill, on the B979 southbound road to Culter, leaving two cars off the road and another overturned in a field.
At the same time a force-10 storm was delivering misery to travellers on land, sea and air.
A coastal road in Lewis closed for hours as it was lashed by high seas when 70mph winds caused a tidal surge.
Flights to Barra, Benbecula and Stornoway were cancelled and delayed, and wild seas resulted in upheaval for ferry services.
The Sound of Barra ferry is suspended until late this morning at least, while the Stornoway ferry was stormbound in Ullapool until last night.
Forecasters have warned that the wintry weather will continue to affect the  West Highlands today, though the north-east will be granted a reprieve from the chilly conditions as the weekend nears.
The Met Office issued a weather warning for the West Highlands from midnight, advising that heavy snow and plummeting temperatures will lead to icy surfaces.
The warning stated: "Some roads and railways are likely to be affected, with longer journey times by road, bus and train services as well as some injuries from slips and falls on icy surfaces.
"With strong winds, drifting snow is also possible with temporary blizzard conditions possible in showers."
A spokesman for the Met Office explained that other parts of the region will get off relatively lightly.
He said: "It will be bright in the north-east, with only a few showers across the west of Aberdeenshire and snow only on higher ground.
"Aberdeen will get the best of the sunshine, and there won't be many changes on Friday.
"Most of the Highlands will remain dry on Thursday and Friday but the West Highlands will experience plenty of snow, even on lower levels."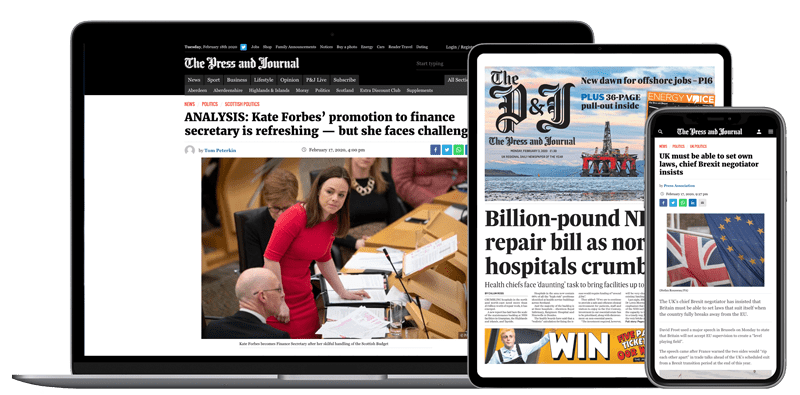 Help support quality local journalism … become a digital subscriber to The Press and Journal
For as little as £5.99 a month you can access all of our content, including Premium articles.
Subscribe