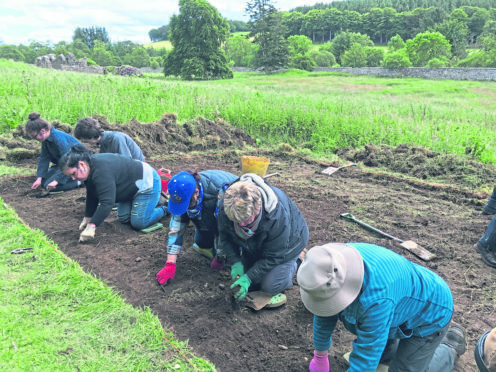 Archaelogists believe they are tantalisingly close to finally finding the lost Monastery of Deer in Aberdeenshire.
The Book of Deer Project is celebrating a Heritage Lottery Fund grant of £10,000 to further its archaeological work.
And yesterday, its members started a two-week excavation with samples being carbon dated and analysed at a site close to Deer Abbey, where two circular structures were discovered last year.
The Book of Deer is a 10th century illuminated manuscript, which contains the oldest pieces of Gaelic writing to have survived from early medieval Scotland.
Archaeologist Alison Cameron said: "This is my fifth year working on the project and this is the closest we have come to buildings which may date to the early medieval period.
"It is a wonderful project with great volunteers and we would all be so excited if this turns out to be the monastery we have been looking for. That would be the icing on the cake."
Ms Cameron said that details written by monks in Scots Gaelic in the margins of the Book of Deer provided "tantalising clues" of the Monastery of Deer surviving for a time after the monks moved to Deer Abbey.
These clues included suggestions that it was visible from the abbey.
Aberdeenshire Council archaeologist Bruce Mann added: "The finds from last year suggest the lost monastery has finally been located.
"This summer, I am hoping that definitive evidence can be found which confirms this.
"The community effort over the last few years to try to find the site has been tremendous and deserves to be rewarded."
The project's chairwoman, Anne Simpson, expressed delight at the HLF grant.
She said: "This is a tremendous boost and will allow us to continue the exciting search for the monastery of Deer which seems so close after last year's dig."
A two-week excavation with an associated educational programme, featuring local Aberdeenshire primary and secondary schools, medieval pottery workshops and storytelling will be carried out until July 8.