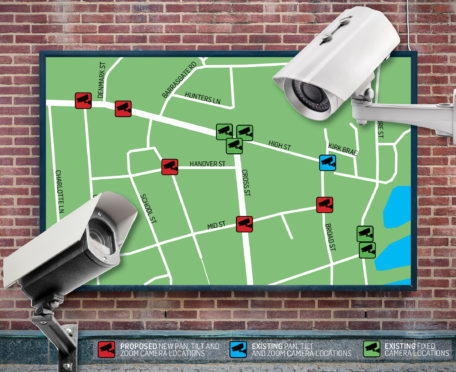 Aberdeenshire Councillors have awarded £60,000 to a project that will allow for the expansion and upgrade of crime-busting CCTV cameras in Fraserburgh.
The Fraserburgh Community CCTV Working Group applied for the funding to help cover the cost of adding new cameras to the town's ageing network.
As the police – who will monitor the system – do not pay for security cameras outwith Scotland's major cities it has fallen to the community to maintain them.
---
>> Keep up to date with the latest news with The P&J newsletter
---
That has proven increasingly difficult but after an appeal to elected members the Banff and Buchan Area Committee yesterday offered their unanimous support on the grounds of public safety.
Chairman of the working group Brian Topping said a "big thank" to committee members for their support but said additional backing from within the Fraserburgh community was needed.
"We've had sleepless nights over these cameras and are delighted at the outcome today
"Before we can go ahead and set up the system we need to raise another £10,000 to cover the overall cost, which have risen since we unveiled our original plan.
"We want to have this set-up by Christmas time to protect people in the area but we need local individuals, businesses and groups to come forward and help out.
"If we can raise this money then the modern 180-degree cameras can be put in place.
"Not only will they improve safety, they are a great tool for the police and can also help to lower people's insurance."
During the committee meeting, a number of councillors questioned why the police were not contributing to the cost.
Councillor Ross Cassie said: "I'm supportive of this project but what I see here is a system that will be used by the police and yet they are making no contribution.
"Where do we draw the line for public safety? Will we soon be buying them police cars too?"
Councillor Charles Buchan agreed and said: "I would like it if the police did contribute to this but we're doing what we can and the council has no leverage over the police so it's good of the council to fund this in the interests of the safety of residents.
"My thanks are also extended to the group who have spent years raising funds to set up a system and maintain it.
"This is great news for Fraserburgh and I'm very please the committee passed it without dissent."
It was made clear at the meeting that Police Scotland are unable to fund CCTV costs outside of key cities but do securely house, monitor and record the images.