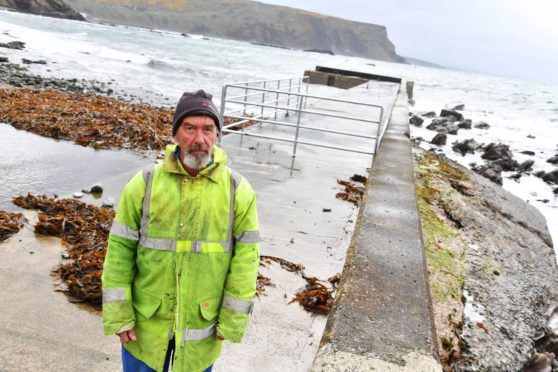 Village residents have vented their anger after an "unauthorised" barrier was installed blocking off the pier at a picturesque harbour.
The metal structure was set up by Crown Estate Scotland at Crovie to "reduce the risk of accidents".
The Scottish Government body responsible for the management of land and property said it was erected on the back of a recent health and safety inspection which flagged up that the pier was an "increased hazard" to members of the public.
However, the local council stressed that the action had been taken on the B-listed jetty without authorisation.
Officers are now expecting a retrospective application to be made in due course.
Locals branded the L-shaped barrier an "utterly useless eyesore" and argued that it was a ridiculous decision.
Chairman of the Crovie Preservation Society Darren Wiseman said the barrier now made it difficult for people to use the pier, which his father cleans annually.
He said: "We clean it about this time of year as there's no point doing it in winter. It's slippery but any sensible person would see it was green and know it would be slidey.
"We've a little boat and fish from there in the summer and this now makes that really tricky."
Holidaymaker Laura Travis, who lives in Sheffield, has been visiting Crovie and the pier for over 40 years since she was a child.
She said: "My son is three and we try to visit at least once a year at the moment. We spent a lot of time on our last Crovie holiday playing on the jetty, in particular floating things down the burn and jumping up and down from the pier.
"I think the barrier is ridiculous, completely out of keeping with the rest of the village and an eyesore. I can't see it stopping us using the jetty though."
Another local, who wished to remain anonymous, said: "In my view it's created a greater danger as people are likely to climb over it or squeeze around the narrow right side and then the chances are they will fall into the sea."
Banffshire and Buchan Coast MSP Stewart Stevenson is disappointed the barrier was put up without consulting the public.
He said: "Crovie is a historic village where listed buildings like the pier have to be cherished and local opinion taken on board."
And councillor Mark Findlater added: "I'm not sure what happened for the Crown Estate to do this but I've reported it to officers so it's up to them now."
A spokesman for the council expects an application for permission to be submitted in due course.
An Aberdeenshire Council spokesman said: "The Crown Estate has been advised that the recent installation is an unauthorised alteration which requires listed building consent."
A Crown Estate Scotland spokesman said the condition of the pier would continue to be monitored.
He said:  "Barriers were recently installed following a health and safety inspection which highlighted an increased hazard to members of the public.
"Barriers have been in place on Crovie Pier previously and signs had also already been put up, but it became apparent that people were continuing to use the pier despite the warnings, hence a physical barrier became necessary to reduce the risk of accidents.
"Whilst we understand there is some local concern about the decision, our immediate priority is the health and safety of both visitors and residents."