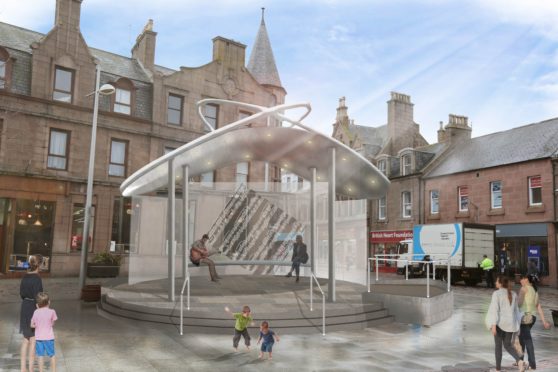 The tender for a major regeneration project in Peterhead has gone live.
Developers are being urged to get involved with the £215,000 for the town's Drummer's Corner area, which includes public artwork, new seating and a replacement of the Drum structure.
Aberdeenshire Council wants to improve the space and encourage groups to use the square for events.
A report into the revamp states: "The key aim of this project is to improve the amenity value and function of the Drummers Corner space by means of improving 'The Drum' structure, seating, lighting and landscaping in the space.
"The project also includes the implementation of power supply facilities for to be used during future festivals and public events taking place at Drummers Corner."
It was initially hoped the refurbishment of Drummers Corner could be completed in time for the Peterhead Scottish Week next month.
But at a council meeting in April, it emerged the scheme had been delayed until the end of the year due to issues with the tendering process.
Last month, the Press and Journal revealed that more than £100,000 spent on the Drummers Corner refurbishment ahead of any construction work taking place.
The council spent £106,000 since 2015 with the cash going on consultations, surveys and drawings.
According to the data, obtained using freedom of information legislation, there was no investment in the area between 2012-15, with it only gathering pace in the last few years.
Local businessman Gilbert Burnett launched his own online survey to gauge support on the designs for Drummers Corner in April.
He found 97% of respondents thought the money could be better spent.
Mr Burnett branded the entire project a "waste of money" and the council bosses should be looking to invest elsewhere.
He said: "People are the heart of the town, but most of this isn't for the people of Peterhead.
"I think it's a waste of money."