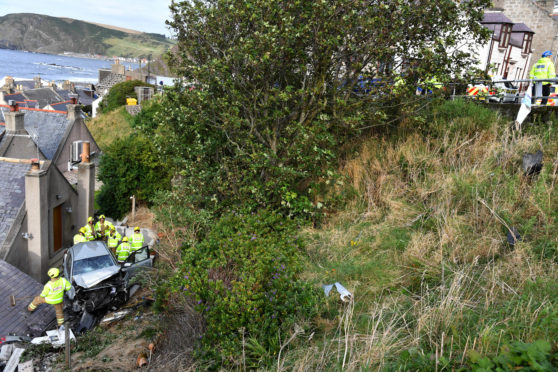 A pensioner was taken to hospital after his car plunged down an embankment and crashed into a home in a north-east village.
The man's silver hatchback tumbled about 30ft down a grassy verge after veering from Harbour Road in Gardenstown yesterday.
Owner of the affected property, Alexander Watson, was not at home when the vehicle smashed into the rear of the building and said he was "shocked" upon hearing about the incident.
He added: "The most important thing is that nobody was killed, the building can be repaired and vehicles can be replaced.
"Accidents do happen.
"I have not managed to speak to the gentleman in the car, all I know is he was speaking and was reasonably fine when we was taken away."
Emergency services were called to the scene at about 3pm, and firefighters battled to stabilise the car – which had been left tightly wedged between a wall and the house – so that the man could get out of the wreckage.
The driver, who is believed to be in his 70s and was in the hatchback alone, was taken to Aberdeen Royal Infirmary "as a precaution" having suffered what the police described as minor injuries.
Mr Watson, whose family has owned the property for around 30 years, is calling for safety improvements at the Bog Corner in Harbour Road after the accident.
He feels the railing along the top of the verge at the side of the pavement should be higher.
He said: "The railing is quite small and not fit for purpose."
But neighbours said the corner was not particularly known for accidents and could only remember one similar crash, involving a van, about 30 years ago.
Troup councillor Mark Findlater said: "My thoughts are with those affected. There are lots of accidents in this area where people are very badly hurt so it is fortunate the driver does not appear to have been seriously injured.
"I know the barriers in question, and they are not that high.
"But it will be up to the roads department, the council and the police to determine what happened – we do not know all the details."
Police were at the scene until after 9pm to oversee the removal of the car, which was towed up the verge using heavy lifting equipment.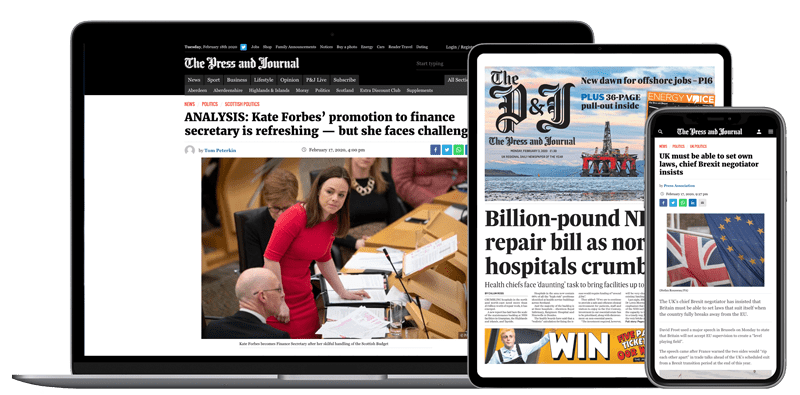 Help support quality local journalism … become a digital subscriber to The Press and Journal
For as little as £5.99 a month you can access all of our content, including Premium articles.
Subscribe