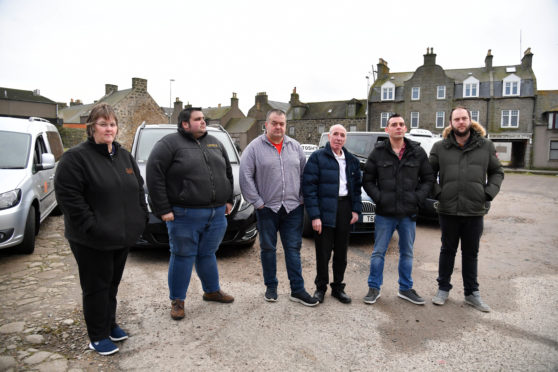 Fears have been raised for the safety of revellers being given cheap lifts home from nightclubs by people acting as unlicensed taxi drivers.
Licensed cabbies in Fraserburgh claim that about 30 drivers appear to be running unofficial taxi businesses, waiting outside pubs and nightclubs to pick people up every weekend.
They say that the unlicensed drivers keep their headlights on to show when they are available, with one going so far as to string Christmas lights around his car as a sign.
As well as worrying about the impact on their jobs, they believe the practice could put young people at risk.
First Cabs Fraserburgh driver, Thomas Beedie, is also the head of security at Deejay's nightclub in the town and worries about people heading home in those cars.
He said: "There were 32 cars last Saturday but they have no disclosures, no insurance, no licence, no public liability, no limit on what they charge – and there's no way of knowing who they are.
"When I'm on the door I point them out to the police, but they've told me before that there's nothing they can do unless they see money changing hands.
"Someone needs to regulate this so we can protect the public from the illegal drivers.
"But it seems like it's going to take something bad to happen before something is done."
John Ritchie, of Ritchie Taxis, added: "It's frustrating seeing them sat in the car park with their headlights on, showing that they're available to give lifts – one has Christmas lights strung around his car that light up when he can take someone.
"There's been no regulation about it. They drive hideous speeds to give as many lifts as possible, making £250 a night.
"If any of us put a toe out of line, we would have our licence stripped."
Rod Watson of First Cabs said: "We can't keep paying quadruple the money to be on the road legally, only to get no business because of them."
An Aberdeenshire Council spokesman confirmed that it employs enforcement officers to ensure licence holders stick to the right terms.
He added: "Any member of the public who believes someone is operating a taxi without a licence should contact the police. To operate or drive a taxi without a licence is a criminal offence."
Police declined to comment.