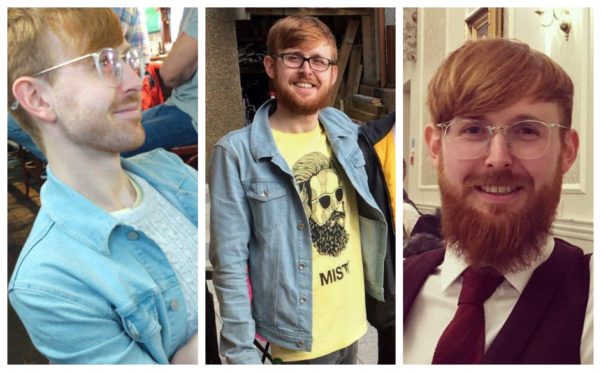 Friends of a north-east man who vanished at the weekend have turned to social media as they continue efforts to track him down.
Ruairidh Sandison went missing from the Gadle Braes area of Peterhead in the early hours of Saturday and extensive searches for him have taken place throughout the week.
Police have deployed divers, drones and helicopters as part of the operation, while officers have been conducting door-to-door inquiries in the town.
Meanwhile, Mr Sandison's friends have spent days plastering leaflets across the north-east and arranging public searches of areas in and around Peterhead,
The effort to find the 24-year-old took another step forward yesterday when they set up a Facebook page named "Missing Persons: Ruairidh Sandison" for people to share information.
One of Mr Sandison's best friends, Jordan Buchan, was the first person to realise he was missing.
He said: "We just launched a new Facebook page where we will post all of the updates that we get.
"The page will also be used to organise public searches and get ideas on new places where we can carry out searches."
Mr Sandison is described as being around 5ft 11in, of slim build and with ginger hair.
The "popular young man" was last seen in person sitting on a bench on the town's Gadle Braes at about 4.20am on Saturday by a friend and taxi driver. He had previously been on a night out in Peterhead.
CCTV footage in the Gadle Braes promenade area later captured images of Mr Sandison at about 5.11am.
A female dog-walker then found his light blue denim jacket at the promenade close to the concrete extension near the play park.
So far public groups led by friends and volunteers have been along the beaches from Ugie to Inverallochy, along the path from the golf course to Ugie Bridge, around Sandford beach and the power station, around Inverugie, the river and Ravenscraig Castle and the old Buchan Railway Line to Aden Park in their hunt for answers.
They have also scoured Slains Castle, Bullers of Buchan and Cruden Bay Beach.
Police searches continued around Gadle Braes with officers seen knocking on doors in the area yesterday.
Mr Buchan added: "We're planning another search but we're absolutely trying to keep our heads up and think positively.
"There's nothing more to do unfortunately, but for information or updates people can have a look at the Facebook page."
People with information can also contact the police on 101, or Crimestoppers on 0800 555 111, if they would prefer to remain anonymous.