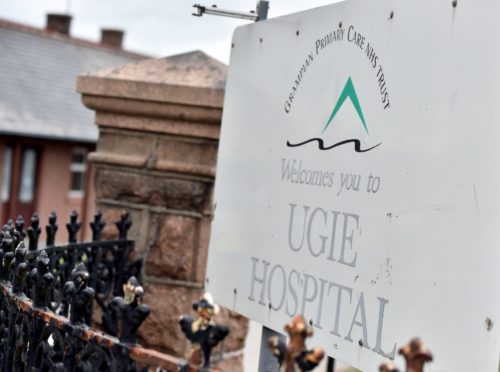 Details have been unveiled of a new multi-million-pound care village at the Kinmundy site in Peterhead.
The report for the integration joint board's meeting next week also reveals recommendations to move services, staff and patients from Ugie Hospital.
The Peterhead Project Board was set up in 2018 to look at the health care services in the town on behalf of the Aberdeenshire Health and Social Care Partnership.
It is now submitting its recommendations to help "project manage" the buildings and care delivered in the region.
One of these is their chosen location for a new care village.
In 2014, councillors agreed to the large-scale development to address the region's rapidly-growing elderly population.
But at that point, it was thought the £8million project would create around 100 places for older residents, in addition to specialist accommodation for dementia sufferers.
However, the village will now include a 60-bed care home, a community 'hub' for day service provisions and eight supported accommodation bungalows.
The report states: "The Project Group has gone back to consider whether the Ugie site might be a possibility for the new care village, but the limitations became apparent.
"The site at Kinmundy therefore has clear advantages.
"It is also now confirmed as the preferred site for the new Peterhead Community Campus, creating even better opportunities for intergenerational partnerships."
The village has also been recommended as a centre for learning for use by other groups.
The report added: "The proposed community hub for day services is also accessed from the main lobby.
"This space is likely to be mainly used by people with learning disabilities, ultimately replacing Willowbank Day Centre which is in poor physical condition."
Another part of the report offers recommendations for Ugie Hospital.
Fears have been mounting that the service would be shut after claims the staff had already been told it was closing.
The project board found it was "well below the optimum expected" and that it was "very difficult" to make a business case for investment there when "local alternatives exist".
They have suggested combining the hospital's 14-bed inpatient rehab services with the provisions within Summers Ward in Peterhead Community Hospital.
They add: "Bed occupancy within Summers has been low for a number of years and so there is comfortable space for this.
"Both Ravenscraig and Summers Ward have had staffing challenges in recent years and bringing the two teams together would increase resilience.
"GP input would be more accessible (next door) and no need to transport patients to diagnostic services such as x-ray or for IV treatments."
Further investigation will be carried out to find appropriate space for outpatient clinics with the board "confident" they can find a solution outside of Ugie.
Staff offices will also be relocated to "better quality" premises.
Members of the IJB from the council and NHS Grampian have been urged to agree to the recommendations at their meeting on Wednesday.