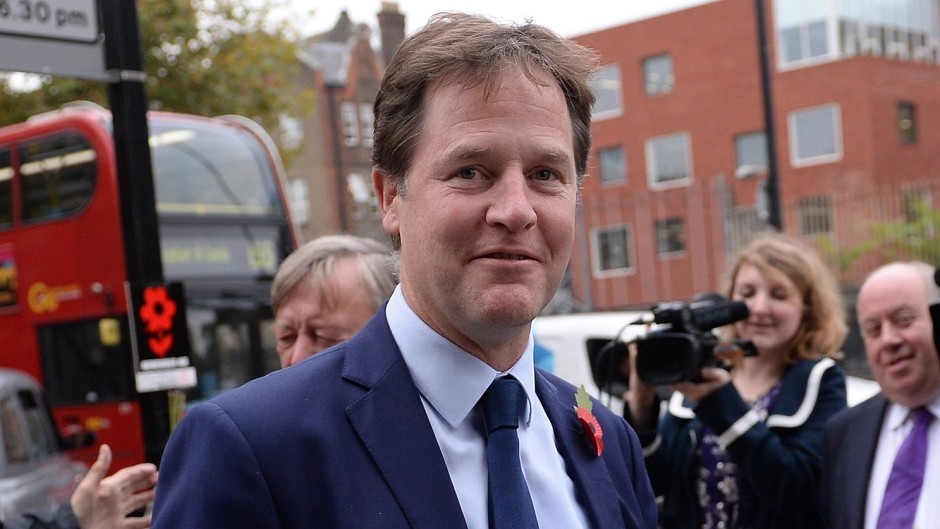 Liberal Democrat politicians have been urged to "publicly distance themselves" from Nick Clegg's suggestion there is now a "compelling case" for independence.
The former deputy prime minister said it would be "very difficult" for Unionists to argue against separation in the wake of Brexit.
But Tory North East MSP Peter Chapman has called on the Scottish Liberal Democrats to denounce the intervention by their former talisman.
The Liberal Democrats hit-back that Mr Chapman had an "utter cheek" given the Tories' EU "referendum gamble" had "reopened" the door to independence.
Mr Chapman said: "People won't be surprised to hear that Nick Clegg is once again shifting his position – this time on protecting the Union.
"But Liberal Democrat politicians across Scotland should publicly distance themselves from these claims that Brexit somehow improves the case for independence.
"That could not be further from the truth. No matter what people's views are on the Brexit vote, we will not solve any problems created by leaving the European Union by walking out on the UK.
"It is bad enough that Nicola Sturgeon and the SNP use every opportunity to foster grievance against the rest of the UK, the last thing we need is the Liberal Democrats now adding fuel to the fire."
It has been reported that a motion – committing the Liberal Democrats to "exploring all options" in the wake of Brexit – could be debated at their autumn conference.
A spokesman for the Scottish Liberal Democrats said: "The Tories have an utter cheek. Their referendum gamble has put the future of the UK at risk by giving the SNP an excuse to reopen their independence debate.
"Liberal Democrats want to protect the benefits of EU membership for the whole of the UK and keep Scotland in the UK.
"Our conference in March and our manifesto in May made it clear we will not support a divisive referendum.
"If only the Scottish Tories were as committed as we are to stopping the creation of new borders then the future economy of the UK and Scotland would not be at risk like it is."