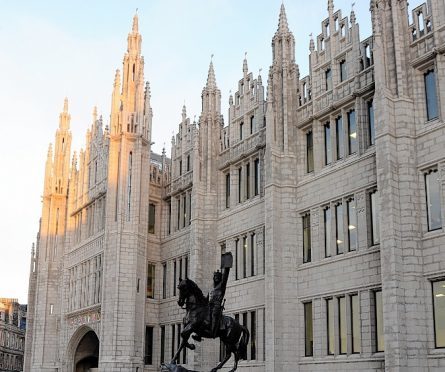 North and north-east councillors have pledged to examine plans to restrict the time homeless people spend in temporary housing such as B&Bs.
Yesterday the Scottish Government published proposals for a seven-day limit on the amount of time those facing homelessness are housed in "unsuitable" accommodation.
Ministers have set aside up to £23.5 million to help meet the target, amid some concern over how the plans will be paid for.
A seven day limit already exists for families with children and pregnant women, who are put up n B&Bs, hostels and other forms of temporary housing.
Now, however, ministers have  launched a "Consultation on Improving Temporary Accommodation Standards" which recommends extending the restriction to anyone experiencing homelessness.
The government is also recommending that legally enforceable standards are introduced to improve the condition of temporary accommodation.
Figures, which emerged last year, suggested Aberdeen City Council had been paying out more than £23,000 a day to put residents up in temporary accommodation.
They showed that over the previous three years, the authority had spent almost £26 million placing homeless people, or those at risk of homelessness, in temporary accommodation including hostels, B&Bs and hotels.
And newer figures released earlier this year found that 50 households took up accommodation in B&Bs in 2018/19 with 35 leaving.
In September last year there were a total of 418 households in temporary accommodation of some description.
Aberdeen City Council housing spokeswoman Councillor Sandra Macdonald said: "We have to use bed and breakfast on occasion.
"We try and limit it because it is an expensive option for us and it is more often than not unsuitable.
"Council officers will look at what these proposals mean and we will be discussing them.  We will look very carefully at this."
In Highland Council, there were 620 households in temporary accommodation in September last year.
Councillor Linda Munro, vice-chair of Highland Council's Housing Committee, said: "Broadly speaking it is absolutely welcomed that we care for everyone with respect, regard and integrity.
"However, there is no doubt this will place a burden on local authorities, who are already hard-pressed. I look forward to learning more."
Communities Secretary Aileen Campbell said: "Temporary accommodation can offer an important emergency safety net for anyone who finds themselves homeless with nowhere else to go, such as those fleeing domestic violence.
"But it should be just that – temporary.
"We want to make sure that the time anyone spends in temporary accommodation is as short as possible before moving to a more appropriate, settled home."