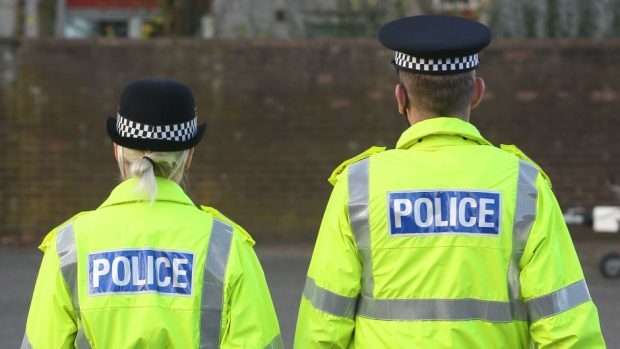 The "decrepit" buildings in which Scotland's police work have been condemned by officers' representatives as they published pictures of the country's crumbling stations.
A peeling floor in Inverness and a damaged chair in Inverurie are among the examples of the "tired and shabby" facilities highlighted by the Scottish Police Federation (SPF) at Holyrood.
SPF General Secretary Calum Steele said working conditions were an "utter embarrassment" and claimed there were "significant risks and dangers" caused by the state of police buildings.
Mr Steele claimed it would cost £300 million for Police Scotland and the Scottish Police Authority to bring buildings up to standards.
Photographs of a peeling floor and missing stair treads – which had been fixed with tape – at Burnett Road police station in Inverness were put online by the SPF to illustrate the poor working conditions.
A damaged chair in Inverurie police station and leaking pipes at Forfar were also highlighted in a series of pictures made public to coincide with Mr Steele's appearance in front of Holyrood's Sub-Committee on Policing.
Damage to police vehicles, including a faulty seat-belt in a van operating in L Division – Argyll and Bute – were also included in the SPF album.
Mr Steele claimed conditions in some areas were a "complete and utter embarrassment", with some buildings "frankly decrepit".
He added: "The Paisley office is pretty much held together with black and yellow hazard tape.
"The Ayr office, I think, was probably carved out of asbestos.
"Even our relatively new buildings are falling into a state of disrepair because no money is being spent on maintenance. They look tired and they look shabby."
"There are some fairly significant risks and dangers to the manner in which our buildings are slowly declining.
"We have water coming in in and around electricity points, water coming in around stairwells. Our floors are not maintained."
"One of the biggest causes of workplace pay-outs are slips, trips and falls and these kind of things place significant additional pressure on a police service with very little money."
Deputy Chief Constable Will Kerr said: "The safety and wellbeing of our people is a priority for Police Scotland, as is meeting our legislative requirements.
"Police Scotland requires significant capital funding to address historic under investment as well as previous poor investment decisions.
"The current allocation is significantly smaller than would be proportionate for an organisation of our size and scope."
A Scottish Government spokeswoman said: "The allocation of resources is for the Chief Constable and SPA to determine.
"We are providing £1.2 billion funding for policing this year."