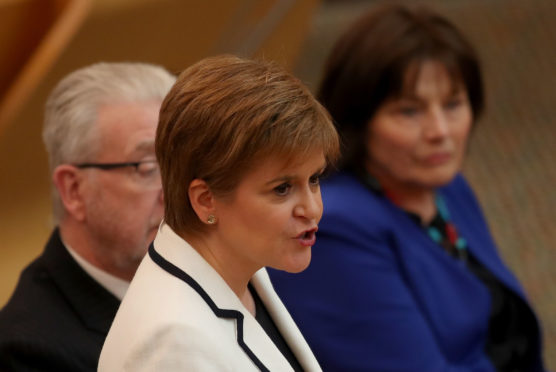 Nicola Sturgeon yesterday said she doubted that Boris Johnson will be able to deliver on his plans for a "free port" in the north-east.
The first minister said she was prepared to have "constructive discussions" on the proposal but added that she was sceptical it would ever come to fruition.
At the weekend, sources close to Mr Johnson disclosed that the front-runner in the race for Downing Street was considering plans to give Aberdeen or Peterhead "free port" status after Brexit.
A free port is a zone within a country that is treated, for customs purposes as an independent jurisdiction.
Under the arrangement, goods can be manufactured, imported and exported in the zone without running into trade barriers such as tariffs and customs duties.
Mr Johnson's allies say the proposal, which the former London Mayor is considering privately, would "turbo-charge" the economy and create thousands of jobs.
The idea would be for the north-east port to be part of a network across the UK and follows Mr Johnson's commitment to establish one in Teeside.
Jeremy Hunt, the underdog in the battle to become UK Tory leader and prime minister, said he was "happy" to consider the free port plan if he defeats Mr Johnson.
Ms Sturgeon was also asked about the proposal as she gave a speech marking 20-years of devolution at an event organised by the Law Society of Scotland in Edinburgh.
The first minister said she had "not heard any detail" on the plans and looked forward to hearing them.
But she added: "If the recent experience of the Scottish Government dealing with Tory politicians in Westminster is anything to go by – not much of what they say is either deliverable or turns out to be delivered.
"But, of course, we are always happy to have constructive discussions."
During her speech, Ms Sturgeon claimed Brexit had left Scotland facing its worst "democratic deficit" since the war.
"Twenty years on from the establishment of our parliament we face the most important example of a democratic deficit in Scotland's post war history," Ms Sturgeon said.
She said the UK parliament had gone "against the votes of our elected representatives" at Holyrood and against the Scottish people in the Brexit referendum.
But Pamela Nash, chief executive of the pro-UK organisation Scotland in Union, said the democratic deficit was Ms Sturgeon's "refusal to accept the democratic result of the 'once in a lifetime' independence referendum".