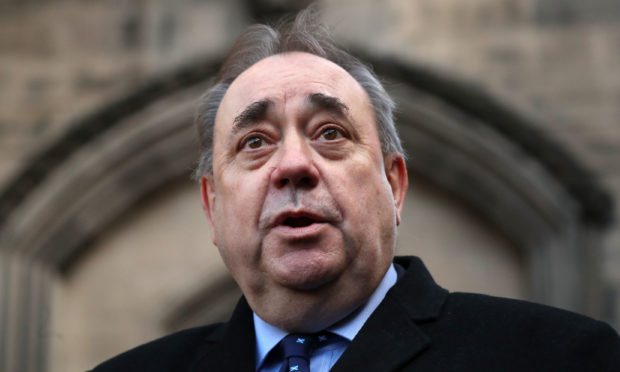 Alex Salmond has been paid £512,250 by the Scottish Government for legal costs relating to the botched internal investigation into his behaviour.
The government has been forced to pay the former first minister more than half a million pounds after a after a court ruled its handling of complaints made against him were "unlawful".
Last night opposition politicians claimed it was "outrageous" that taxpayers' money had been "wasted" as a result of the Scottish Government's handling of the case.
Mr Salmond took legal action against the Scottish Government in August 2018 to contest the complaints process activated against him in relation to sexual harassment allegations.
Mr Salmond has always denied the sexual harassment allegations.
At the Court of Session, Lord Pentland said the Government's actions had been "unlawful in respect that they were procedurally unfair" and had been "tainted with apparent bias".
The Scottish Government admitted it had breached its own guidelines by appointing an investigating officer who had "prior involvement" in the case.
A Scottish Government spokesman confirmed a final settlement of £512,250 had been made.
Tory MSP Donald Cameron said: "It is outrageous that over half a million pounds has been wasted thanks to the botched handling of this investigation.
"This is taxpayers' money that will be handed over to Alex Salmond thanks to the appalling way these complaints were dealt with.
"In addition to this wasted money, the two people who made these complaints have been badly let down by the Scottish Government."
Mr Salmond raised £100,000 through a crowdfunder to pay for his judicial review of the Scottish Government's handling of the complaints.
Last night his spokesman said there was likely to be a surplus from the crowdfunder that would be distributed to good causes.
The spokesman added: "It is now clear that the total bill could be upwards of three quarters of a million pounds, when proper allowance is made for the in-house legal work of the Government.
"No doubt the upcoming parliamentary inquires may wish to ask the very obvious questions of why this unlawful process involving such a huge waste of public funds was undertaken by the Scottish Government and who was responsible for these decisions."
Mr Salmond still faces multiple charges of attempted rape and sexual assault, which are separate to the judicial review.
He denies the charges and is expected to go on trial next year.