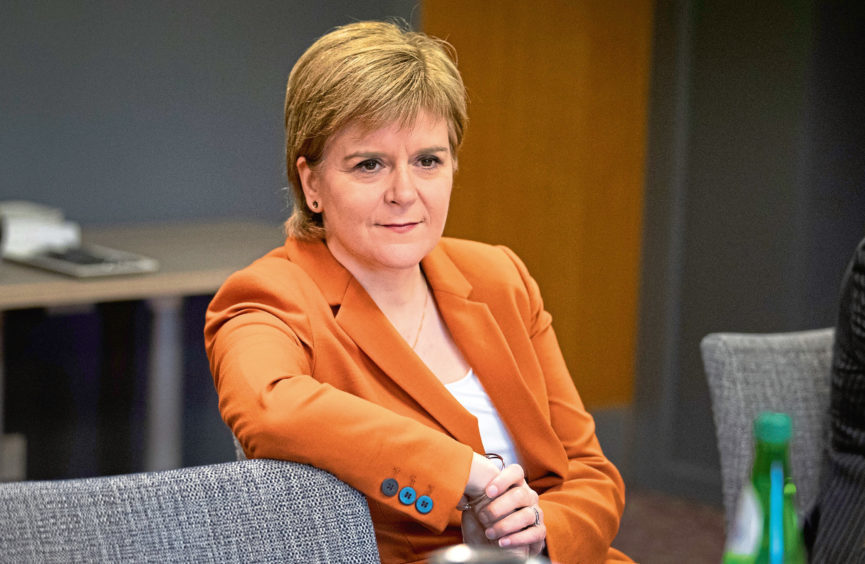 Nicola Sturgeon yesterday claimed Boris Johnson's "cast iron" pledge to refuse a second independence vote had a limited shelf-life as she launched the SNP's General Election campaign.
Another referendum was also put at the top of Ms Sturgeon's list of demands the SNP party would seek from Labour in return for propping up Jeremy Corbyn in Downing Street.
Ms Sturgeon claimed a hung parliament would be "potentially the best outcome" for Scotland, arguing it would give the SNP at Westminster "significant influence and power".
At a launch event in Edinburgh, the SNP leader confirmed that the price of her part's support for a minority Labour administration would be an independence referendum next year.
A 2020 vote, she said, was fundamental to achieving a "progressive alliance" with Labour to keep Mr Johnson away from Number 10.
Ms Sturgeon also pledged to "drive a hard bargain" on other matters, saying the SNP wanted to see a "real end" to austerity and more public services investment.
Until such time as Scotland was independent, the SNP would also seek devolution over powers on migration, employment law to protect workers and drug laws.
The SNP would press for raising the living wage and action on climate change, including forcing Westminster to match Scottish Parliament targets.
Ms Sturgeon also announced plans for an NHS Protection Bill that would explicitly prevent any future UK Government from signing up to any agreement that made the NHS, in any part of the UK, a bargaining chip in post-Brexit trade deals.
The SNP's campaign was launched the day after Mr Johnson came to Moray and gave a cast iron guarantee that there would be no independence referendum, even if the SNP won a Holyrood majority in 2021.
Ms Sturgeon said the prime minister had shown a "contemptuous and disrespectful" attitude towards Scottish democracy.
And she predicted that Mr Johnson's position could not last.
"I predict confidently at this podium today that position he articulated yesterday will turn out to have a shelf-life only about as long as his 'we will leave the European Union on the 31st October do or die, or I'll be dead in a ditch'," Ms Sturgeon said.
"Fundamentally it is the power of public opinion in Scotland that will see that position proven to be unsustainable."
UK Lib Dem leader Jo Swinson yesterday urged voters to put independence to one side and back the Lib Dems to stop Brexit.
She made the plea on a campaign visit to North East Fife, in which constituency the SNP is defending a majority of just two from the Lib Dems.
Ms Swinson said: "Cutting ties with our closest neighbours is a backwards and isolating move – that's been the lesson of the past three years. We need to learn the lessons of Brexit, not repeat the mistakes."
Meanwhile, Tory leader Jackson Carlaw campaigned in Dumfries visiting the charity South West Scotland RnR, which provides holidays in Dumfries and Galloway for injured soldiers.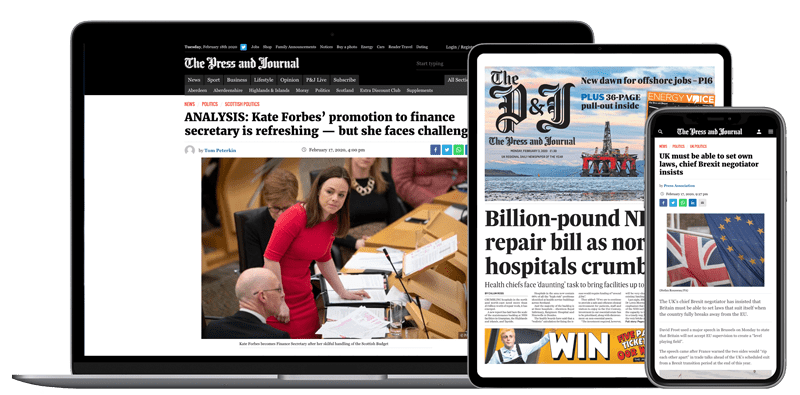 Help support quality local journalism … become a digital subscriber to The Press and Journal
For as little as £5.99 a month you can access all of our content, including Premium articles.
Subscribe