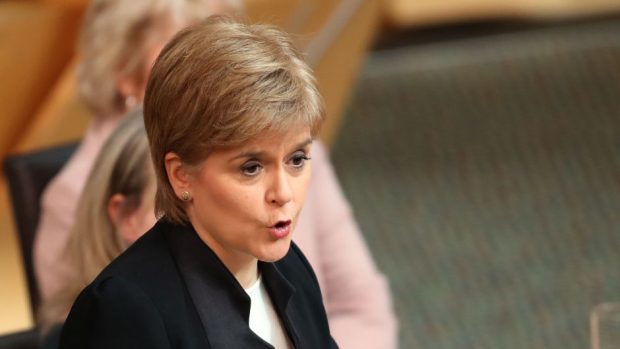 First Minister Nicola Sturgeon was quizzed on knife-carrying in schools yesterday following reports that the north-east had the highest rate in the country.
North-east MSP Liam Kerr raised the issue at first minister's questions in Holyrood amid concerns over a delay in publishing official statistics on knife-crime in schools.
Recent reports have suggested that 10 pupils at schools across Scotland are being caught carrying knives every month.
Figures showed that there were 11 in the north-east over an eight month period – the joint highest rate, alongside the Lothians and the Borders.
Meanwhile, a total of five weapons, including at least three knives, were recovered in primary and secondary schools across the Highlands last year – the highest number in five years.
Mr Kerr, a Scottish Conservative representative, told MSPs yesterday that Justice Secretary Michael Matheson had written to him in December to say that data on school exclusions for carrying weapons would be published in January, but they had not been.
Responding, Ms Sturgeon said: "I will ask the justice secretary to write to update the member.
"We now publish more statistics on carrying of weapons in schools. Police Scotland statistics now distinguish between different categories, which is right and proper. Equally important is publication of the data.
"We have a number of programmes of work, many of which are funded by the government, to reduce violence on the part of young people, and not just in our schools, but generally.
"It is important work and I will ask the justice secretary to give Liam Kerr an update on the specific point that he raised. I am sure that members across the chamber are united in committing to doing as much as we can to tackle and challenge the problem."
Speaking afterwards, Mr Kerr said: "Possession of knives in Scottish schools has risen significantly, turning our schools into places of fear for students and parents alike.
"Today's responses show that that Nicola Sturgeon is simply not taking this issue seriously enough as the statistics we were promised have not been published, and she doesn't know why.
"Our children deserve to be educated without fear of attack."