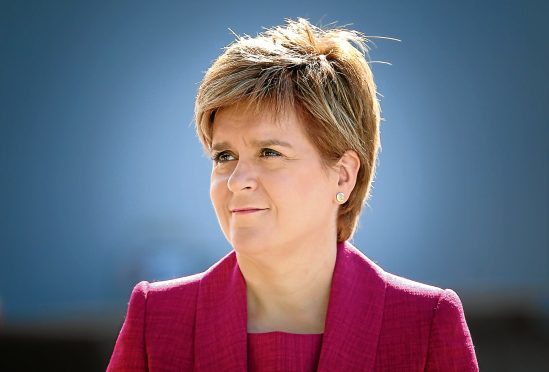 Nicola Sturgeon put a new £250 million plan to transform support for people suffering from mental health problems at the heart of her programme for government yesterday.
A series of measures were announced including the recruitment of hundreds of new counsellors and nurses for the nation's schools, colleges and universities, as well as boosting community resources.
The move was revealed just hours after the latest set of worrying data revealed the scale of the challenge facing NHS Grampian and other areas.
Official figures showed that only 48.1% of youngsters started treatment for their mental health in Grampian within the Scottish Government's 18-week waiting time target between April and June.
Scottish Conservative leader Ruth Davidson asked: "Why has it taken until the day we see the worst ever waits on record for children to receive treatment before the government acts?"
The package unveiled by Ms Sturgeon included a £60 million pledge to deliver an extra 350 counsellors and 250 additional school nurses, ensuring every secondary school has a counselling service.
A further 80 counsellors will be based at colleges and universities, while every local authority will have access to mental health first aid training for teachers.
A further promise was made to strengthen the network of support available for the 11,000 mothers a year who experience mental health problems during and after pregnancy, including greater access to counselling.
And there will also be improved access to psychological assessment and therapy in rural areas and strengthening of the handling of mental health calls to the 111 service.
Ms Sturgeon said: "As the stigma around mental health reduces, demand for services is rising. We have a duty to meet that demand quickly and appropriately.
"That means doing more to support positive mental health and to prevent ill health. It means delivering greater provision of mental health support in communities, including schools, and it means ensuring that people who experience serious illness can access specialist services more quickly."
Aberdeenshire East MSP Gillian Martin, who campaigned on the issue, said: "This is a huge investment commitment from the Scottish Government to help provide counselling services for young people in education."
Labour's Richard Leonard said: "The system needs to change and I hope that today is the first step towards doing that."
The programme for government featured plans for a total of 12 new Bills and a promise for an extra £7 billion to fund major building projects such as hospitals and schools, as well as an export growth plan that will be backed by £20 million and help 150 firms.
In her Holyrood speech, the first minister also announced a fast-tracking of the first welfare payments to be delivered by the country's new social security system, and outlined how head teachers would be given new powers in schools.
Scottish Liberal Democrat leader Willie Rennie was unimpressed.
He said: "After 11 years in power this government is showing all the signs of being at the end. The SNP are struggling to discover any purpose for their remaining time in office."