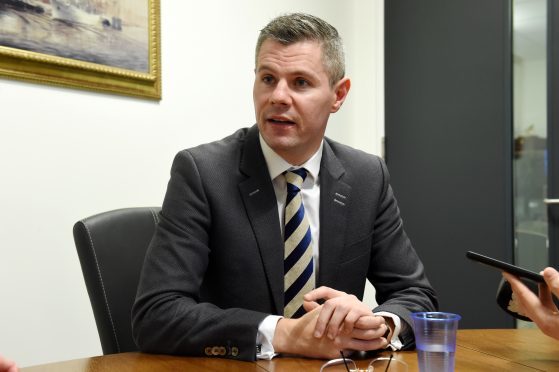 Derek Mackay last night faced fresh warnings that high earners could quit Scotland to avoid paying increased income tax rates as MSPs voted for his controversial tax plans.
The warning came from the Chartered Institute of Taxation (CIOT) as the Finance Secretary's income tax proposals were backed by a narrow majority at Holyrood.
A worker earning £50,000 in Scotland already pays £824 more tax than south of the Border, but the gap will widen to £1,500 from April.
Those earning more than £27,000 face higher bills than in England.
MSPs voted for Mr Mackay's Scottish rate resolution, which will set income tax rates for 2019-20. Sixty-one SNP MSPs supported his plans, 52 MSPs voted against it and the six Green MSPs abstained.
Under Mr Mackay's plans,  the salary threshold for higher-rate income tax will be frozen at £43,430, while it rises to £50,000 in England.
The CIOT claimed those affected would " seek to take steps to legitimately limit their tax liabilities".
This, according to the CIOT, could include reducing the number of hours they work and increasing their pension contributions to avoid paying more tax.
The CIOT said these contributions were not taxed and it could mean remaining salaries dropping back down below the threshold for higher rate tax.
Alexander Garden, chair of the body's Scottish technical committee, also said the self-employed may find paying lower rates of corporation tax by incorporating their businesses "a more attractive option".
He added: "Higher earners, or those with greater mobility, may even choose to relocate away from Scotland."
Tory finance spokesman Murdo Fraser said:  "Thanks to the SNP, everyone earning over £26,990 a year, ordinary hard-working families, will pay more in tax in Scotland that others pay in the rest of the UK.
"Businesses have repeatedly warned that this tax divergence will be bad for the Scottish economy."
However, Public Finance Minister Kate Forbes insisted the resolution protected lower and middle earning, while raising an extra £68million.
She also said predictions that last year's shake-up of rates and bands would damage the economy were "wrong".