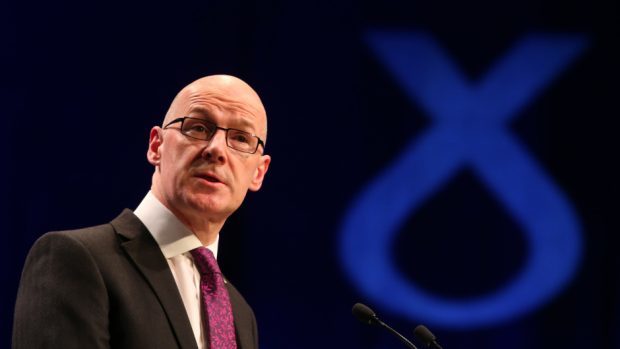 Ahead of today's Convention of the Highlands and Islands, Deputy First Minister John Swinney considers some of the key issues faced by rural communities
Throughout the entire Brexit process, whether considering the EU Withdrawal Bill or our future relationship with Europe, our number one priority has been to protect Scotland's interests.
Freedom of movement and migration are crucial to our economy and particularly to many sectors in our rural communities. However, these significant issues are under serious threat by Brexit and will be discussed at today's Convention of the Highlands and Islands taking place in Millport on the Isle of Cumbrae.
One straightforward way to secure future EU migration and free movement of people is for the UK to remain in the European Single Market – the world's richest marketplace of 500 million people, and around eight times bigger than the UK market alone – and Customs Union after Brexit.
Scotland's population is ageing. And while it is very welcome that people are leading longer lives, we need also to have an active workforce that enables the economy to develop and in turn supports the many essential services from which we all benefit, like schools and the NHS. That is precisely what businesses and individuals the length and breadth of Scotland, and in particular in remote and rural places, have been telling us.
In recent years, these long-term demographic trends have been mitigated by free movement of people from the EU, helping grow the number of working age people in Scotland, filling jobs in the NHS and other front-line services, and contributing taxes. The Scottish Fiscal Commission's economic and fiscal forecasts now warn about the effect of reduced migration on the jobs market.
Migration matters more to Scotland, and particularly our rural economy than it does to other parts of the UK. Even small numbers of migrants can have a large impact on the sustainability of communities, public services, and businesses in the rural economy.
But, of course, the contribution of migration is not just about economics and population statistics. We ourselves have a large, vibrant and global Scottish diaspora and a long history of welcoming people from overseas who choose to make Scotland their home.
We want to be able to continue to welcome those people as we have done. This is why Scotland needs a migration system that works for us.
UK policy is to drastically reduce migration and we have been calling on the UK Government to abolish the net migration target, and reintroduce the post-study work visa as recommended by the Smith Commission. We also think further devolution should give Scotland the power to decide the criteria for some types of visa, and a formal role in deciding on shortage occupation.
There is an opportunity to rethink the UK immigration system more fundamentally, to design a new regional approach, with powers for the Scottish Parliament to meet Scotland's full range of needs.
This was set out in Scotland's Population Needs and Migration Policy, our discussion paper on future migration. It also reinforces the argument we made in Scotland's Place in Europe: People, Jobs and Investment that free movement of people should continue by the UK remaining in the European Single Market and Customs Union. We are clear, though, that if the UK leaves the European Single Market, then the future migration system for EU citizens should replicate the benefits of free movement as closely as possible.
Ending freedom of movement works both ways. Not only does it restrict those from the EU who wish to live and work here in Scotland, it will make it more challenging for our young people who want the chance to live and work in Europe.
The Scottish Government wants migration to continue to make an important contribution to our demography, economy and society.
The freedoms afforded us from being in the EU are the birth-right of many of Scotland's young people today and we will continue to fight to ensure as many of these freedoms remain in the future as we strive to ensure Scotland remains a European nation.