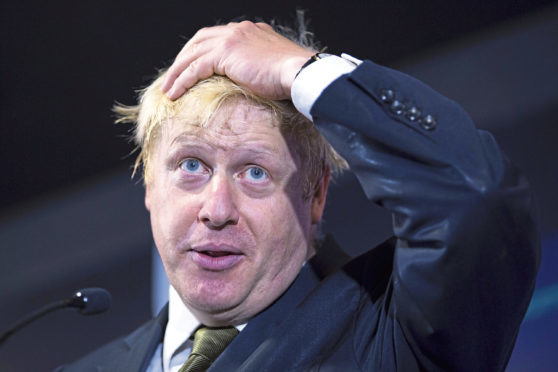 "When I use a word," Humpty Dumpty said, in rather a scornful tone, "it means just what I choose it to mean — neither more nor less."
"The question is," said Alice, "whether you can make words mean so many different things."
"The question is," said Humpty Dumpty, "which is to be master — that's all."
This week has been littered with linguistic outbursts which have dominated the news.
In the world of sport, Serena Williams accused the umpire in her US Open tennis final of being a thief and sexist.
She was reacting, in the heat of the moment, to his decisions to dock her a point and then a game for her outbursts on court during the contest.
Such was the impact of her tantrum, few will remember who she was playing or that her opponent, Naomi Osaka, made history as the first Japanese Grand Slam winner.
And then there was Boris Johnson. On Sunday, he branded the Chequers Deal as like wrapping a "suicide vest" round Britain and handing the detonator to the EU.
And Labour's Chuka Umunna felt the wrath of those on the left of his party. He asked the leadership to "call off the dogs" in their attacks on his colleagues who he feels are being targeted with deselection.
Their "crime" was to speak out against Labour's handling – or perhaps more accurately, mishandling – of the anti-Semitism row.
In each of these examples, the words used took centre stage.
Each event is different. They are dissimilar because of circumstance and intent. And each, as Humpty might argue, has a different master.
Serena had a spur of the moment outburst. The heat of battle. The frustration of the circumstances and an outpouring of emotion. No premeditation. No ulterior motive.
But her tirade captured the headlines to the extent that they were the news and her victor a mere footnote to the coverage. Words 1, Tennis nil.
Boris's words were crafted and calculated. His were not so much "Bon Mots" as "Bomb Mots".
Whether to divert attention from more lurid and personal story lines doing the rounds, or to fan the flames of Brexit and leadership ambition, only he knows.
But they got a reaction. They are memorable and will be remembered and repeated by those who are fellow travellers. They are lurid and evocative and provocative. And they worked. They have invoked emotion. Boom!
In Chuka's case, a different linguistic dynamic was at play. He used the common phrase of "calling off the dogs" as an eloquent attempt at a soundbite to sum up his plea. Enough is enough. Let's calm down.
But far from quelling, they provoked.
His detractors, as one, decided he was labelling the rank and file of the Labour Party as dogs. He was demeaning them, treating them as trash.
This reaction was a classic play to divert attention from the substance of the debate over anti-Semitism into a war of words. They were used to entrench division rather than to heal. Words twisted to suit an agenda.
Inconveniently for the Corbynites, John McDonnell, the wannabe next Chancellor, used exactly the same phrase against Gordon Brown a few years ago. But, no doubt, that was different – Humpty and Alice got it right.
So, words do matter.
The right thing said, at just the right time, can capture a mood. The power of language, skilfully deployed, can captivate a crowd. It can define a moment and galvanise a movement.
Tugging at our heart strings and fuelling greed or stoking fear are the keys to unlocking our emotions. Advertisers, PR people and politicians know this.
Because, in truth, it is our emotions which matter most. Which last the longest. Which linger deep inside us but which can be brought flooding back to the surface.
It never leaves us how we felt at the birth of a child, or when meeting the love of our life. Or how we felt when faced with big decisions such as Indy or Brexit.
In 20 years' time, will you remember the greatest quotes, or detailed promises and exactly who said what and why and to whom? Or will it be how you felt which lingers longest?
Since long after the actual words have evaporated into the mists of time, and policies are long forgotten, often all we have left is our emotional response at the time.
And that is shaped by what was said and how it was said and – most importantly – how it made us feel.
Humpty Dumpty wasn't quite right.
It is not what we mean by the words we use, but how they make others feel.
That is why many vote the way we do, or buy a particular perfume or use one bank in preference to another.
It is why, all too often, it is heat, not light, which drives our decisions. For better or for worse.