MP for Gordon Alex Salmond has a few thoughts about similarities between Donald Trump and Boris Johnson.
"Is there more to the connection between Donald Trump and Boris
Johnson than their debatable hair styles?
Last week, Mr Johnson proclaimed that being mistaken for the Republican front runner by a young lady in New York was one of his "worst moments".
There is no record of Mr Trump having ever been mistaken for the London Mayor or what he would think about it if he was.
However, perhaps there is more to the New Yorker's mistake than meets the eye. There are similarities between the pair.
The Donald is a billionaire who campaigns against the establishment.
The Boris is an old Etonian who projects an image as a rebel.
Both men have a degree of popularity. Mr Johnson leads the Tory hopefuls to replace David Cameron as prime minister.
Mr Trump leads the Republican hopefuls to be the candidate to become the next president.
However, both appeals are limited. The Donald has the worst approval ratings among women of any major candidate in history.
While Boris's electoral appeal hardly extends north of Potters Bar.
Both are also famously short in detail. Mr Trump crumbles in front of any serious interviewer.
Boris melted like a snowflake in front of the forensic examination of the Treasury select committee.
However, if asked to choose between the American demagogue and the Tory deep blue sea then I would choose the blue.
After all Boris is unlikely to build a wall at Calais or consider nuking Europe.
In this comparison mere sanity would seem to be a major advantage.
And as a clincher, as prime minister Boris would be the best recruiting sergeant for Scottish independence since Margaret Thatcher!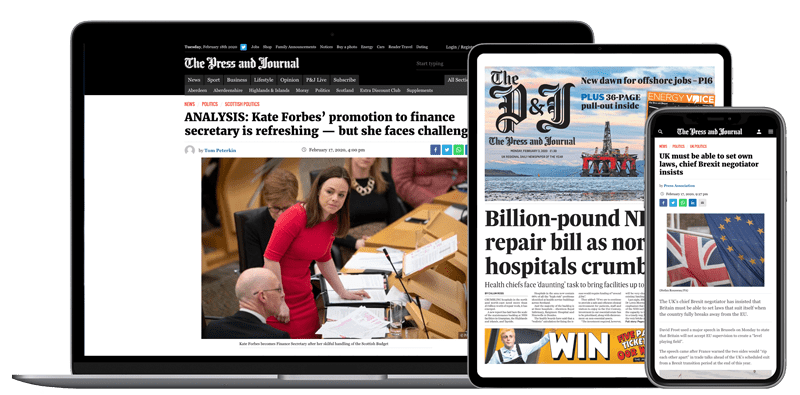 Help support quality local journalism … become a digital subscriber to The Press and Journal
For as little as £5.99 a month you can access all of our content, including Premium articles.
Subscribe