Nicola Sturgeon has said she expects Theresa May to ignore the will of the Scottish Parliament on a second independence vote and could look to present a new "way forward" within weeks.
Speaking in a video released on social media by the Scottish Government, the First Minister said: "Earlier this week, the Scottish Parliament voted to give the people of Scotland a choice about our country's future.
"That decision was taken because the UK Government has decided to remove Scotland not just from the European Union but the single market as well.
"That is clearly against the will of the majority of people who live here and it will make us, in the words of the UK Government itself, permanently poorer. That has enormous implications for our schools, hospitals, jobs and investment.
"The next two years are hugely important for Scotland because they will determine the type of country we will become. That is why today I have written to the UK Government, to ensure we can make that choice when the time is right; to accept Brexit or become an independent country."
She continued: "The Prime Minister has indicated that she intends to ignore the will of the Scottish Parliament and seek to prevent people in Scotland having that choice.
"If the Westminster Government continues to hold that line it will go against the very foundations of devolution. So I hope that the Prime Minister changes her mind and acknowledges that the people of Scotland are entitled to a choice at a time and in a way that is right for Scotland.
"However, if she doesn't, as I expect she won't – at least not yet – I will come back to the Scottish Parliament in a few weeks times with an update on how we are going to move forward to ensure that the people of Scotland are able to choose our future when we have the information we need, both about Brexit and independence, and while there is still time to take a different path."
A letter drafted by the Ms Sturgeon to the Prime Minister requesting powers to hold a new independence vote is expected to be delivered later today.
However, Mrs May has been keen to reinforce her mantra that "now is not the time" to hold another vote.
Speaking during a visit to Scotland earlier this week, she said: "My position is very simple and it hasn't changed. It is that now is not the time to be talking about a second independence referendum and that's for a couple of reasons.
"First of all, now is the point when we are triggering Article 50, we're starting negotiations for leaving the European Union. Now is the time when we should be pulling together, not hanging apart. Pulling together to make sure we get the best possible deal for the whole of the UK.
"It would be unfair on the people of Scotland to ask them to make a significant decision until all the facts were known, at a point where nobody knows what the situation is going to be."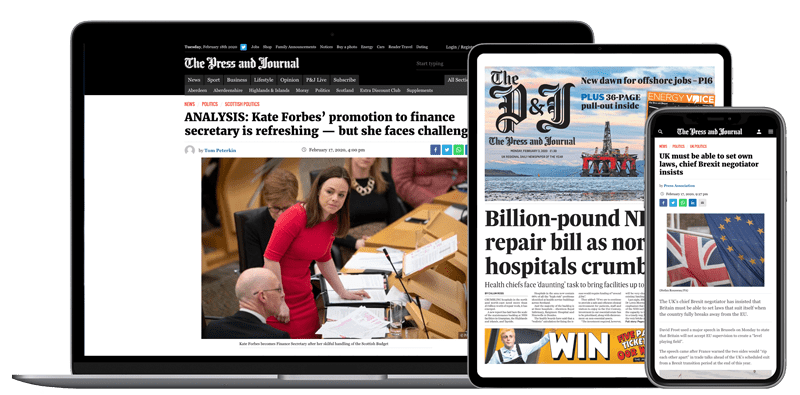 Help support quality local journalism … become a digital subscriber to The Press and Journal
For as little as £5.99 a month you can access all of our content, including Premium articles.
Subscribe