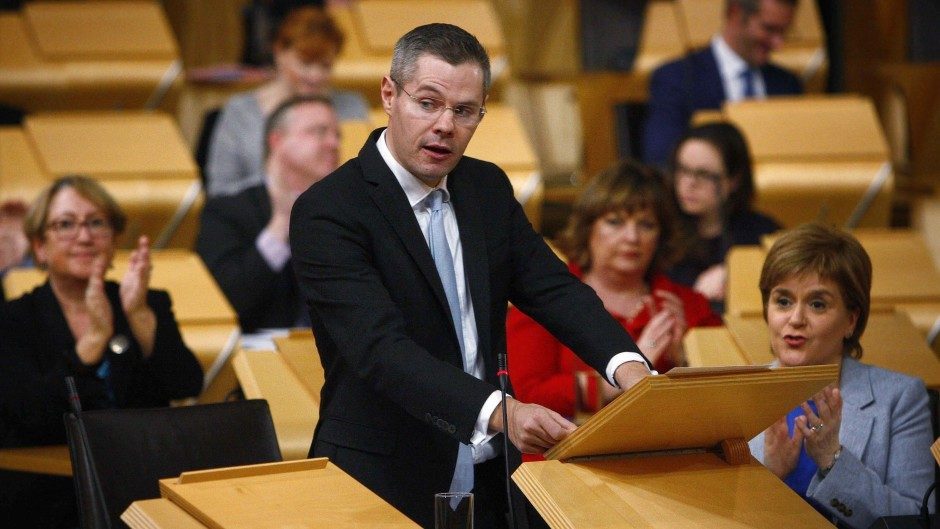 Scots are facing a double-whammy raid on their wallets after the draft budget proposed income tax rises for higher earners and paved the way for more council tax hikes.
Finance Secretary Derek Mackay insisted the new income tax bands would make the system "fairer" and cut tax for the 70% of workers who earn less than £33,000 a year.
But the Scottish Conservatives branded it a "Nat Tax" that would punish aspiration and hard work, while breaching the SNP's own manifesto promises.
And councils said they were facing a cut of £153million from essential services, on top of more than £500million extra required to maintain current provision, making it likely that council tax will rise again in many areas.
However, Mr Mackay did keep his promise to end the public sector pay freeze, increasing salaries in line with inflation, or 3%, for those earning up £30,000, and 2% for staff paid more.
A further £400million will be invested in the health service, but concerns were expressed at NHS Grampian's below-inflation and lower than the national average budget rise from £902.4million to £920.6million, with NHS Highland in the same boat, increasing from £592.6million to £604.3million.
There was £96million in extra support for business rates-payers, £600million for broadband, major funding rise for enterprise and skills agencies, and 80% of first time buyers will benefit from a new relief on Land and Building Transaction Tax of up to £175,000.
But there was no support for internal ferries in the northern isles, and private schools will lose their right to tax relief.
Amid concerns about a growing tax gap between Scotland and the rest of the UK, higher earners north of the border will now pay more if the budget is approved in February, after Mr Mackay announced the higher and top rates would both increase by 1%, to 41% and 46% respectively.
In a surprise move, a new "starter rate" of 19% was proposed for those earning between £11,850 and £13,850, and a new "intermediate rat"" of 21% for those earning between £24,000 and the "higher" rate of £44,273, with the "basic rate" of 20% now covering those earning in between £13,850 and £23,999.
The changes will raise £164million for the government, and Mr Mackay said the new starter rate and the existing personal tax allowance would ensure no-one earning less than £33,000, about 70% of taxpayers, would pay more, and those earning below that figure would pay slightly less.
In his speech at Holyrood, the finance secretary said: "These decisions have enabled me to reverse the real terms cut that the UK Government has imposed on our resource budget next year, whilst ensuring that Scotland is not just the fairest taxed part of the UK but, for the majority of taxpayers, the lowest taxed part of the UK."
David Eiser, head of fiscal analysis at the Fraser of Allander Institute thinktank, said: "Combined with changes announced last year, the Scottish income tax schedule now looks quite different from that in the rest of the UK.
"Alongside increases in the higher and additional rate for income tax, the announcement of a new starting rate of 19% will have surprised many. That being said, the maximum gain to any taxpayer from this lower rate is just £20 per annum."
He added that "arguably the big story of the budget" was the forecasts for growth from the Scottish Fiscal Commission, which predicted it would remain below 1% to 2021, well below the nation's average growth rate since the early 1960s.
Meanwhile, Moira Kelly from the Chartered Institute of Taxation warned of "anomalies" under the "complex" new system, saying:  "Today's announcement underlines the increasingly diverging nature of income tax between Scotland and the rest of the UK.
"We are concerned that today's proposals have the potential to increase both the costs and complexity of administering Scottish income tax as well as throwing into the mix some interesting anomalies.
"The options set out could – for example – see someone earning between £44,274 and £46,350 per year paying a marginal rate of tax of 53% (income tax and national insurance) compared with a lower marginal rate of 43% for those earning between £46,351 and £100,000."
Scottish Conservative shadow finance secretary Murdo Fraser said: "The message from this budget is clear: don't be ambitious, don't be hard working, and don't be successful in the SNP's Scotland.
"If you are, the SNP will penalise you for its own failure to grow the economy."
Scottish Labour leader Richard Leonard said: "Scotland needs real and radical change, not tinkering around the edges and it should be based on the principle of from each according to their means, to each according to their needs, a penny on the top rate just doesn't do it."
Scottish Liberal Democrat leader Willie Rennie said: "The budget is a missed opportunity. It does not do enough to meet the long term needs in the economy."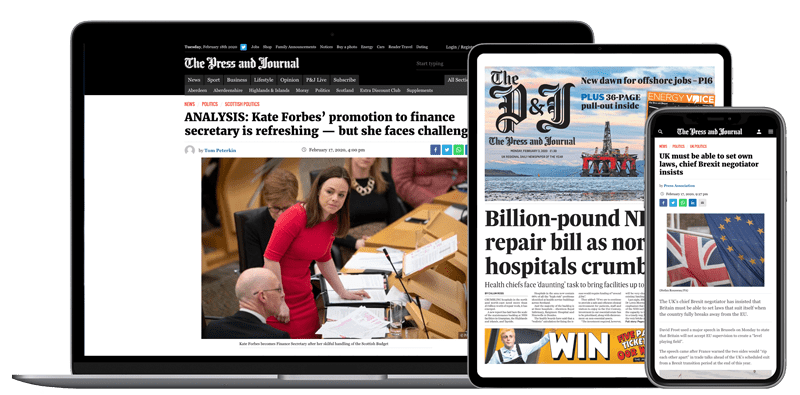 Help support quality local journalism … become a digital subscriber to The Press and Journal
For as little as £5.99 a month you can access all of our content, including Premium articles.
Subscribe