Boris Johnson has insisted he would refuse to seek a Brexit deadline extension even after he is compelled to do so by Westminster passing new laws.
During a visit to Aberdeenshire, the prime minister said there would be no more "dither and delay" when it came to EU withdrawal and vowed to "fight, fight, fight" for north-east seats in the event of a snap General Election.
Mr Johnson flew to the north-east with the Tories in turmoil over Brexit and with a new poll suggesting an election would result in the Conservatives losing all 13 of their Scottish seats.
His trip included a visit to Darnford Farm, Durris, to publicise £51.4million for Scottish farmers through Lord Bew's review of farm payments.
The prime minister claimed Scottish Conservative MPs had delivered the cash as he urged voters to back his party to safeguard Scotland's place in the United Kingdom.
But Brexit overshadowed his announcement as he faces a cross-party bid at Westminster to legally require him to ask for a Brexit extension if there is not a deal by the October 31 deadline.
Mr Johnson said he would not ask the EU to push back the deadline even if obliged to do so by law.
"I don't want to do that," the prime minister said. "I don't think that's what people want. The big picture is we've spent a long time trying to sort of fudge this thing and I think the British public really want us to get out."
Mr Johnson attacked Jeremy Corbyn and the SNP, accusing them of "running away" from an election by rejecting his demands for a poll before the EU summit in mid-October. The country now looks poised for a November election as a result of opposition delaying tactics.
Mr Johnson has called for the vote, even though it has been forecast it would damage the Scottish Conservatives, who are still reeling from the sudden resignation of Ruth Davidson.
Yesterday, a You Gov poll, commissioned by the People's Vote organisation, predicted Mr Johnson's party would lose all of its Scottish seats. The pollsters surveyed 887 people in the 13 Tory-held constituencies.
Mr Johnson described Ms Davidson as an "inspirational" leader and said he hoped she would make a comeback. In her absence, he claimed being part of the UK led to investment in Scotland such as the £51.4m for farming.
But SNP MSP for Aberdeen Central Kevin Stewart said Mr Johnson was "completely toxic" in Scotland.
He added: "His Brexit plans will absolutely hammer our economy and destroy jobs.
"There is no such thing as a safe Tory seat in the north-east."
The prime minister's host in Durris, farmer Peter Watson,65, welcomed the extra cash for agriculture, but said it was time  to stop Brexit "dragging on".
He said:  "Good or bad, we need to be out.  I voted Remain, but I accept democracy."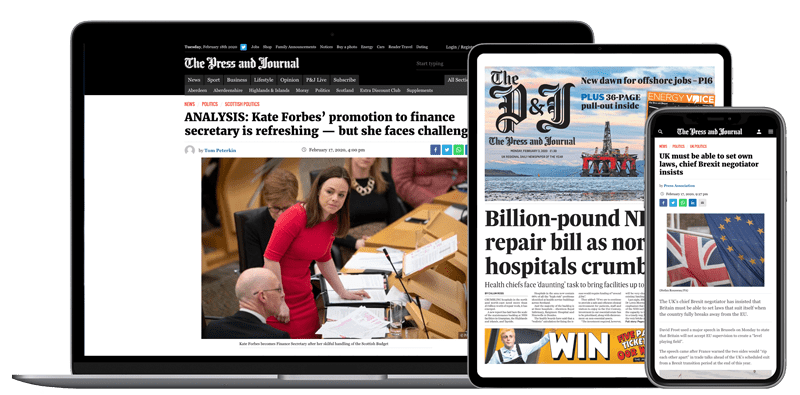 Help support quality local journalism … become a digital subscriber to The Press and Journal
For as little as £5.99 a month you can access all of our content, including Premium articles.
Subscribe