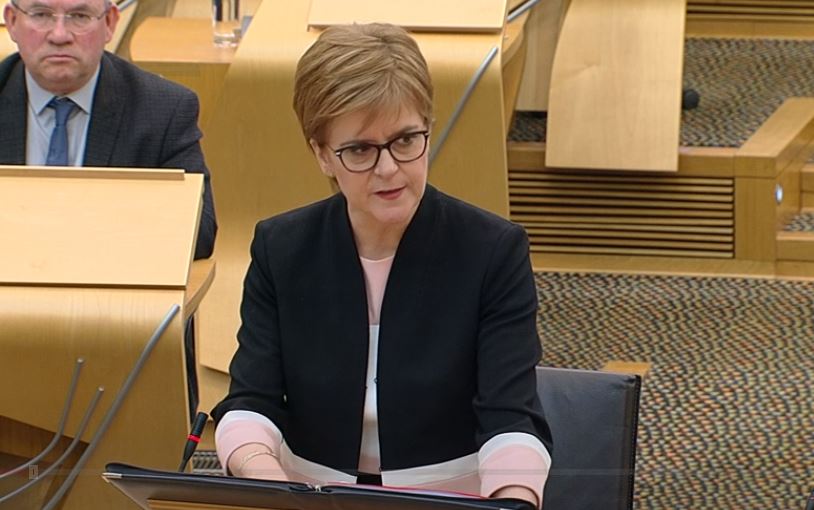 Nicola Sturgeon has said she hopes to stay SNP leader for the next few years as speculation mounts over her future in charge of the party.
Ms Sturgeon said her intention was to lead the SNP into next year's election but acknowledged she was reflecting on internal frustration over the lack of progress towards a second referendum.
In an interview on the BBC's Andrew Marr Show, the first minister also declined to give a cast-iron promise that a second independence vote would take place this year.
She emphasised that her priority was for a legal and legitimate referendum that would deliver independence.
But she failed to rule out legal action in a bid to get Holyrood to hold its own poll in the face of Westminster opposition.
The Scottish Government's domestic failings, the resignation of disgraced former Finance Secretary Derek Mackay and the impatience of SNP activists on independence has led to Ms Sturgeon's position being discussed.
Speculation has intensified with prominent SNP politicians Angus Robertson and Joanna Cherry QC lining themselves up to fight each other for the Edinburgh Central seat at Holyrood – a contest that has been characterised as a battle for the succession.
Asked by Mr Marr if she would stay in her position for the next few years, Ms Sturgeon answered: "Yes, I hope so."
The SNP leader said she felt issues of frustration within the SNP could be "slightly overblown", but she added: "All leaders should reflect on an ongoing basis on these issues."
She went on to put two conditions on her remaining leader, adding that she did "intend to lead my party into the next Scottish Parliament and hopefully win that and stay as first minister".
Sturgeon says `emphatically' that she has drive to continue
The first condition for staying on was having the support of the SNP and the country. The second was that she still wanted the job and had the "drive and energy" to do.
On the first condition, she said she had just led her party to a "landslide" victory in last year's general election. On the second she said it was "emphatically the case" that she believed she was the right person for the job had the drive and energy to continue.
"When either of these things cease to be the case then that'll be the time for me to move on and do these other things that I'm keen to do in my lifetime," Ms Sturgeon said. "That is not now and it is not imminent."
This SNP Government is morally and politically bankrupt, mired in sleaze and bereft of any ideas"

Jackson Carlaw, Scottish Tory leader
Scottish Conservative leader Jackson Carlaw claimed Ms Sturgeon's remarks showed she was "clearly rattled".
"While Sturgeon intends to remain First Minister, her most senior lieutenants are already fighting like ferrets in a sack to be the next leader of the SNP," Mr Carlaw said.
"Everyone knows it isn't feasible to have indyref2 in 2020 but the First Minister will not rule out yet more constitutional and legal wrangling.
"This SNP government is morally and politically bankrupt, mired in sleaze and bereft of ideas."
Indyref2 must be legal and legitimate, Sturgeon says
Asked to give SNP activists a "categorical promise" that she would deliver on her demand for a referendum this year, Ms Sturgeon would only say: "That's what I'm working for."
Underlining her preference for a legal referendum, she said: "I appreciate that some people are impatient for independence – I'm impatient for independence.
"But what's most important of all is that we have a referendum that's legal, legitimate and can actually deliver independence."
But with Boris Johnson refusing to grant permission for Holyrood to hold another vote, she left the door open to the idea of challenging the prime minister's position in court.
"I don't rule out testing that at some point. But it is not my preferred option because I don't think these things should be tested legally but should be settled politically," Ms Sturgeon said.
The first minister also conceded that there would be an Anglo/Scottish border were an independent Scotland to rejoin the EU.
When Mr Marr said there would be friction on the English/Scottish border, Ms Sturgeon admitted: "That, unfortunately looks like being the case."
But she went on to say that there were months of negotiation in which she would argue for the UK's relationship to be "as close as possible" with the EU.
After the talks, she said she would have to "set out" how to mitigate and manage the border.
Ms Sturgeon renewed her attacks on Mr Johnson's points-based immigration system, which was announced last week by the UK Government.
A delegation of Scottish business leaders will travel with her to Downing Street to argue for her proposal for a separate Scottish visa system.
Ms Sturgeon said: "You have a UK government that has as an expressed objective – reducing the number of people who come into the UK from other countries.
"My point is that that objective – in and of itself – is deeply damaging to Scotland's economy and our future prosperity.
"It will make us poorer and that is why I really want to see this change and for Scotland's interests to be recognised."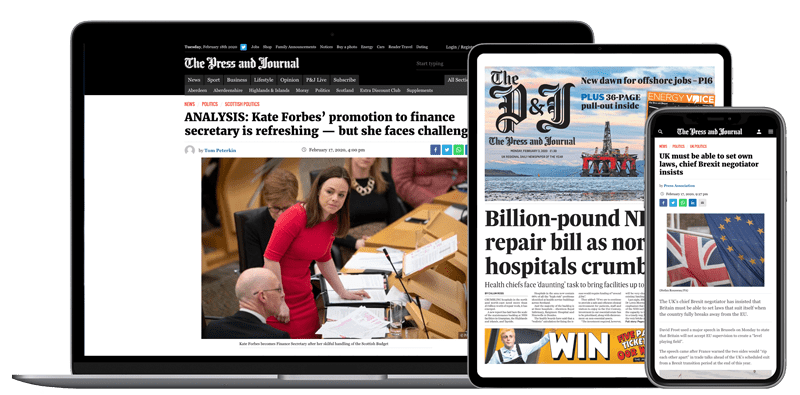 Help support quality local journalism … become a digital subscriber to The Press and Journal
For as little as £5.99 a month you can access all of our content, including Premium articles.
Subscribe